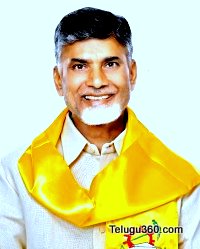 Beleaguered Naidu will knock on the doors of centre on Wedenesday for a bail-out from the cash-for-vote tangle he is  caught in.
He will lodge a complaint with union government that how Telangana government is resorting to phone tapping in Hyderabad, the joint capital of Telangana and Andhra Pradesh and making the city insecure for Andhra Pradesh chief minister and other political leaders of the ruling party.
He is scheduled to meet home minister Raj Nath Sigh first and later, Prime Minister Nardenra Modi tommorrow.
He left for New Delhi immediately after the marathon cabinet meeting which revolved around the issue of telephone tapping by the T-government.
As he is fearing the prospect of being questioned by the Telangana ACB, Naidu rushed to Delhi to seek centre's intervention in the matter, so that the T-ACB drops his name from the FIR.
Sources said Naidu, will also have consultations with legal experts in Delhi to explore the possibility of taking legal action against the T-government.
Similarly, he will exert pressure on the centre to implement the provisions of AP Reogranization Act-2014 that give special powers to the Governor over the joint capital area.
As of now, the provisions are not recognized by the Telangana government and are in cold-storage.
In the six-hour long meeting, in which AP intelligence chief  Anuradha was also present, the cabinet thoroughly discussed telephone-tapping issue.
According to sources, some ministers even expressed displeasure over the reported cluelessness of AP intelligence department on the Reventh issue or on the tapping of telephone of chief minister.
Naidu briefed the cabinet on the exercise he had done in the past two days to counter the T-government campaign against Andhra Pradesh government.
Naidu said he had held a meeting with all the service providers like Airtel, Vodafone etc to know more about the phone tapping.
"I gathered from them that on average daily about 5000 phones are  being tapped by operators at the request of various investigating agencies in Telugu states," he told the cabinet.
Finally, the cabinet decided  on a three-pronged strategy to nail Telangana government.
One, a team of ministers will call on government ESL Narasimhan to lodge a complaint and seek action against T-government.
Two, the state government will set up  a committee that would go into the matter of telephone tapping by T-government or the recording of CM's  reported conversation with T-MLA Elvis Stephenson.
And the three, the government will explore the possibility of approaching the court to rein in Telangana government in intercepting the telephone conversations.