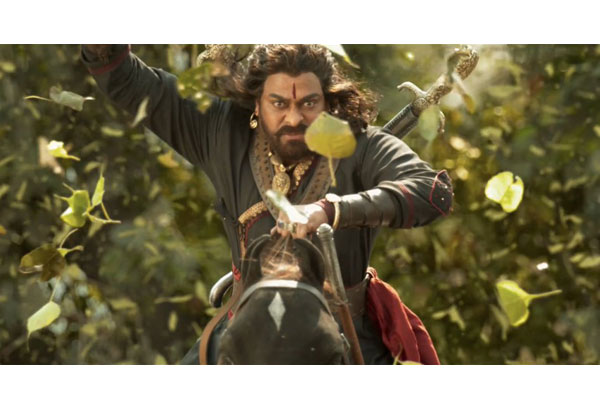 Freedom fighter Uyyalavada Narasimha Reddy happens to be the head for 64 villages and every village has its own story. Every village has its own beauty and the artwork defines the specialty of the village. The makers erected 42 massive sets to narrate the story of these villages. Airport and Jagannadha Konda sets are the major highlights said the film's art director Rajeevan. He worked with Surendar Reddy for Dhruva and had great sync with the talented director. This is the reason why Surendar Reddy wanted him on board for Syeraa.
Designing Syeraa sets and the look of Megastar turned out to be quite difficult as they had limited information and references from the history. Rajeevan said that they took ample time to recreate the history and design the characters and their looks. "I formed a team and started the pre-production work in March 2017. We prepared the sketches of the major characters and then started finalizing the designs for their costumes. 15,000 pairs of costumes have been stitched by 22 tailors in a time span of five months" said Rajeevan while speaking to a leading daily.
"The silk material which was used by the Britishers was bought and their clothes were specially designed. Technology has changed vastly over the past two decades. The sets should look realistic to bring soul to a periodic drama. We shot several war episodes in Georgia as we needed 1500 British troops. We shot there for 28 days and we prepared 200 dummy rifles for the war sequences. All the weapons are specially designed by my team and the makers spent massive money on these minute things. The money spent on rifles and weapons is equal to the budget of 2-3 small films" concluded Rajeevan.
Syeraa is hitting the screens on October 2nd and is made on a budget of Rs 200 crores. Konidela Production Company produced this periodic drama and Chiranjeevi essays the role of freedom fighter Uyyalavada Narasimha Reddy in Syeraa.