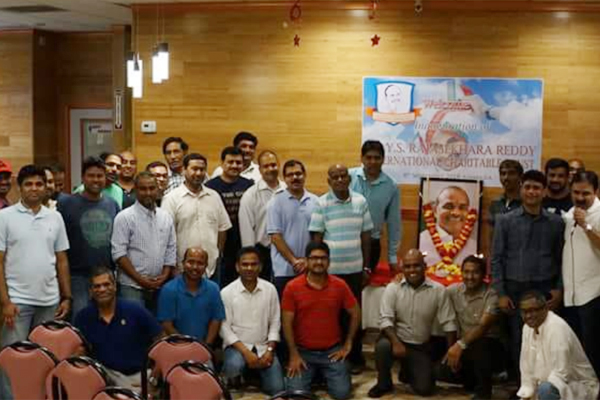 The Atlanta team of NRI YSRCP paid homage and rich tributes to Dr. Y. S. Rajasekara Reddy garu during the 9th Vardanthi event held on the 8thth of September, 2018. Upendra Rachupalli and Balarami Reddy Valluru garlanded the portrait of Dr. YSR and let the lamps.
The speakers and the participants of the event remembered Dr.YSR, his services and his penchant for serving the people and the country.
Following the tribute to Dr. YSR. Dr. Dhanunjaya Reddy Gaddam announced the launch of Dr. YSR International Charitable Trust and explained to the crowd the purpose of launching the trust and its activities going forward. The participants responded enthusiastically to the launch of the trust and showed their support by pledging over $6000 during the launch.
Upendra Rachupalli, Srini Vangimalla, Raj Ila, Prabhakar Reddy, Venu Reddy Panta, Suresh Suruvilla, Dr. Kishore Reddy, Naveen Konareddy, Raj Muppalla, Dr. Kamesh and several others graced the event.
The event was organized by Dhanunjaya Reddy Gaddam, Kiran Kandula, Krishna Narsimpalle, Jayachandra Reddy, Rambhoopal Reddy and several other followers of Dr. YSR.
Kiran Kandula thanked the audience for their time and making it to the event to show the affection and love towards Dr. YSR. Drinks and dinner followed, and the evening ended with lots of high spirits and optimism.