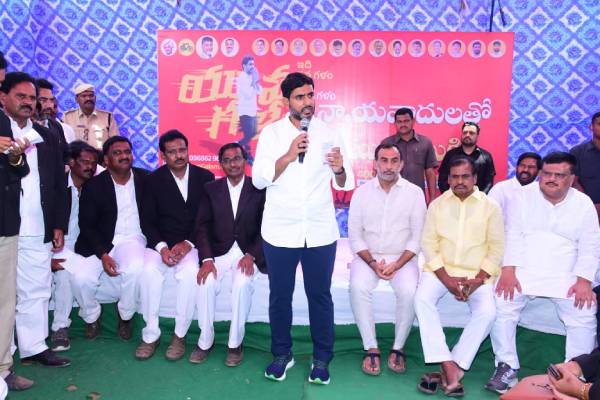 When the advocates from Kadapa district raised several issues including false cases being foisted against them, TDP general secretary, Nara Lokesh, said on Thursday that even the advocate community too has fallen victim to the evil designs of Chief Minister, Jagan Mohan Reddy.
Terming Jagan as an extremist who destroyed all the systems in the State, Lokesh, who had an interaction with the advocates from the district during his Yuva Galam pada yatra on Thursday said that Jagan is flaring up regional imbalances only for political gains. "In the name of three capitals the Chief Minister did nothing except create regional feelings among the people of the State," Lokesh remarked.
Stating that a High Court bench will be set up at Kurnool soon after the TDP forms the coming government, Loeksh pointed out that when the TDP during its regime wanted to establish the National Law College in Kurnool but Jagan had shifted it from here.
"I have personally seen the pathetic condition prevailing in the court complexes in different parts of the State. I am assuring you all that once the TDP is back in power all the issues will be corrected and enough funds will be allocated to the Law department to take up necessary steps," the TDP general secretary observed.
Also, health cards will be issued to the advocates and Rs 10 lakh ex gratia will be paid to the bereaved families of the lawyers, he said, adding that quality houses too will be built for the community. Lokesh said that the TDP Legal Cell is being strengthened and those who are striving hard for the progress of the party will certainly be given positions in the coming government to be formed by the TDP.
Later addressing the party activists at Pulivendula, Lokesh asked them not to expect any justice in the area. How Jagan, who could not honour his own sister and mother, can do justice to his home district, he remarked.
Pointing out that the TDP has extended all kinds of assistance to the people of Pulivendula, Lokesh said better opportunities too were given to the local leaders both in government and in the party. Observing that the people of Pulivendula too are sufferers of Jagan's evil regime, Lokesh called upon the TDP activists to move closer to the people.