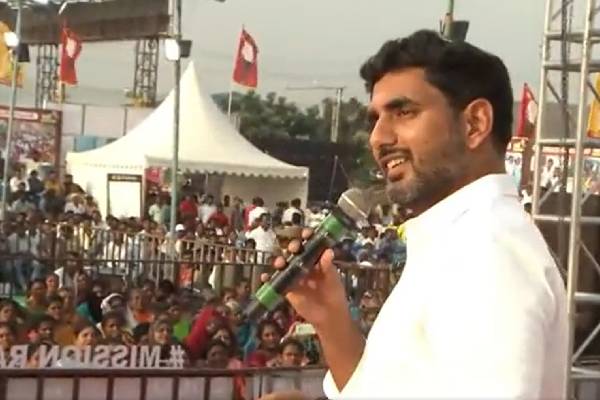 TDP general secretary, Nara Lokesh, on Wednesday promised the people of Rayalaseema that his Yuva Galam pada yatra has given him an opportunity to have the first hand information on the troubles being faced by them and that he will certainly take measures to come to their rescue to wipe their tears.
Releasing the Mission Rayalaseema at a programme organised by the party leaders in the presence of a massive gathering, Lokesh said that the TDP has designed a special programme for the benefit of the dairy farmers. Assuring the farming community to transform Rayalaseema as a horticultural hub, the TDP national general secretary promised to initiate steps to supply irrigation water for every acre by completing the ongoing projects.
"My aim is to ensure that the farmers get more benefits and that the investments are brought down. Quality seeds will be supplied and processing and pulping units will be set up in Rayalaseema," he added. This apart, Lokesh said that the region will be developed as a temple and eco tourist centre thus increasing the job opportunities.
Rayalaseema will be transformed as a sports capital of India and a sports university will be established in the region, Lokesh said. Sports will be developed in such a way that the youth from here should take part in the global sports competitions, he stated.
"I am promising you all that once the TDP is back in power Rayalaseema will be a centre for the automobile and electronics industry. The sectors will be developed by utilising the industrial corridors of Bengaluru, Chennai and Hyderabad as a result of which employment opportunities will grow," Lokesh maintained.
This apart, the mining industry too will be developed besides cement and building material industries will be established on a large scale in Rayalaseema, he said. Every household in Rayalaseema will be supplied with safe drinking water through water grids and these are the goals of the TDP, Lokesh said in the Mission Rayalaseema.