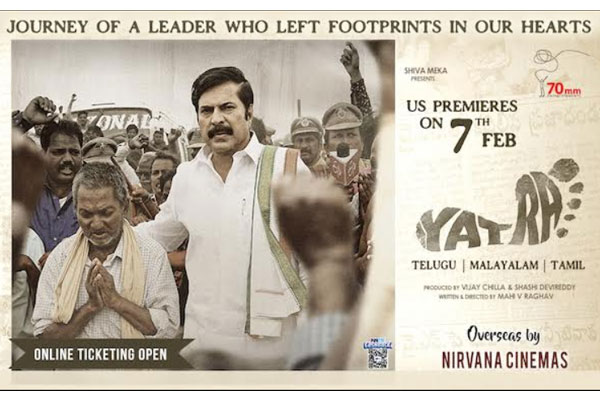 Yatra, one of the most awaited biopics of the season hits screens in US on Feb 7th and stage is all set for the premieres. Content and Keys are delivered to theaters 3 days in advance to ensure on time premieres.
Promos and songs have struck an emotional chord with the audience and social media has been abuzz with Yatra promos from last few days.
Yatra, starring Megastar Mammotty and directed by Mahi V Raghav covers the historic walk of YSR in 2003. It is bankrolled by 70mm Entertainments and music is composed by K.
Yatra is releasing in more than 140+ theaters in US, which is a biggest ever release for Mammotty sir and is releasing in Telugu, Malayalam and Tamil languages. Online bookings are open now and prime time shows in major cities are already selling out fast.
There are many celebrations planned by YSR Fans and Mammotty Fans across US. Please message us on FB/Twitter @NirvanaCinemas if you would like to participate in the celebrations.
Cities where celebrations are planned:
1) Milpitas, CA
2) Orange, CA
3) Dallas, TX
4) Atlanta, GA
5) Chicago, IL
6) Charlotte, NC
7) Morrisville, NC
8) Houston, TX
9) Centreville, VA
10) North Brunswick, NJ
11) Christiana, DE
12) Novi, Michigan
13) Bellevue, WA
14) Fairfax, VA
Book your tickets now to be part of celebrations and celebrate the legacy of YSR.
CLICK HERE!! For Theater Schedule.
Press release by: Indian Clicks, LLC