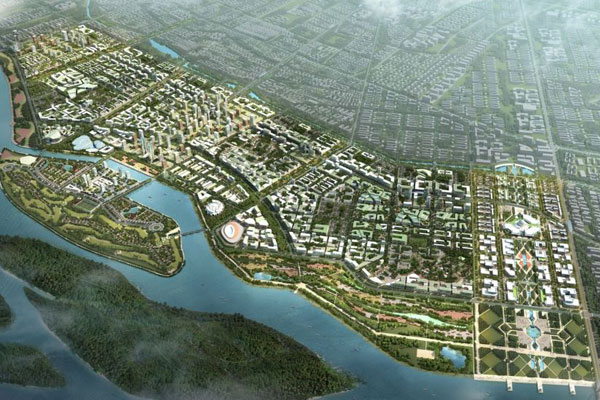 Amaravati capital region has almost become a state within the state of Andhra Pradesh. The vast area it covers now will be under the direct control of Chief Minister as there would be no elected body to govern area that falls in Krishna and Guntur districts. So, government has appointed an executive committee of officials to look after the affairs of the CRDA. The in-charge secretary, Municipal Administration and Urban Development (CRDA), Ajay Jain has been appointed chairman of the executive committee. With this, Jain, a 1991 batch IAS officer, has become most influential officer in Andhra Pradesh. Jain, who, one of the blue-eyed boys of ten -year Congress regime between 2004 and 2014, has successfully wriggled out of the Congress legacy unlike many senior officers who got stuck in the past .
Ajay Jain is already looking after the departments of Energy, Investment and Infrastructure . Now he is made chairman CRDA executive committee. Naidu's entire developmental program is hinging on these three departments- Electricity, investments and capital city. One can easily imagine the clout Jain holds in the state government now. State government has decided to bring more mandals under under AP Capital Region Development Authority (APCRDA). On Tuesday area under the control of CRDA has been extended to 8352 sq km from 7,068 sq km, adding an extent of 1464 sq km to the existing CRDA.
On December 30, 2014 the state government notified 7,068 sq km spread across covering Krishna and Guntur districts as CRDA. About 29 mandals, fully or partly from Krishna district and another 29 mandals, fully or party, from Guntur district had been brought under the wings of CRDA. Within a week, Nandigama Nagar Panchayat, Nuziveedu Municipality and Gudivada Municiapality (Krishna district) , Ponnuru and Sattenapalli Municipalities from Guntur district had been brought under the jurisdiction CRDA.
Now many more municipalities have become part of CRDA with the extension of CRDA to 8352 sq km . The new areas : Jagayyapeta Municipality, 24 villages in Jaggayyapeta mandal, 26 villages in Vatsavai mandal, 12 villages in Penuganchiprolu, 4 villages in Mylavaram Mandal, Two villages, Narsupeta and Digavalli in Nuzivi mandal, Three villages in Bapulapadu mandal, 7 villages in Movva mandal, 9 villages in Ghantasala, two villages in Challapalli, seven villages in Mopidevi, 10 villages in Pamarru, ten villages in Nandivada, six villages in Gudivada and one villages Pedavaram in Nandigama mandal.
Areas in Guntur district that come under CRDA purview: six villages in Atchampeta mandal, five in Krosuru, two in Sattenapalli, three villages in Phirangipuram, two in Edlapadu, Vangipuram in Pratipadu, Three villages in ponnuru, eight villages in Bhattiprolu.