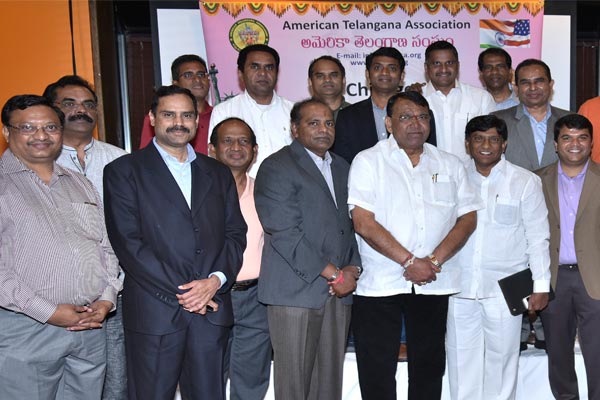 American Telangana Association (ATA) hosted a grand welcome to Government of Telangana agriculture department delegation at Chicago. The delegation is on an official tour to attend Farm Progress Show, Meet with American Soybean Association and attend several industry programs in United States of America.
A rousing community reception was hosted for delegation membersShri. Pocharam Srinivas Reddy garu, Minister for Agriculture and Cooperation Shri. B. Vinod Kumar garu, Member of Parliament, Dy. Floor Leader Shri C. Parthasarthi garu, IAS ((APC & Secretary to Govt. of Telangana Agriculture & Cooperation Department)
Shri A. Murali, IAS (Vice-Chairman & Managing Director, Telangana State Seeds Development Corporation LTD. (TSSDC))
Evening started with Mr. Kalyan Anandula, founding member of American Telangana Association welcoming the delegation and explaining about American Telangana Association and its vision. American Telangana Association launched in Mar, 2016 as a consortium of 35 different telangana organizations from North America and around the world and with their support within a short time conducted First World Telangana Association on July 8, 9 & 10th, 2016 at Detroit, MI.
Later Shri. B. Vinod Kumar garu addresssed the audience and touched on several government programs happening in the two year old State of Telangana and shared the goverment's vision in making the state a Bangaru Telangana. He spoke elaborately about T NRI's role in development of the state and active participation in working with government in improving public education for the masses. He has mentioned that they are closely working with Central government towards reversing the Country's "Brain Drain" to "Brain Gain"
Later Shri Pocharam Srinivas Reddy garu spoke at length about the in development irrigation projects in the state, various government initiatives for farmers, mission Bhagireetha, K.G to P.G.
A Q& A session was conducted with several questions from audience. Some of the questions were around
Government role in curbing fake seeds resulting in farmer's death,
Source of funds for several irrigation projects from Central government agencies and how government intends on repayment of these funds,
Recent Telangana and Maharastra government agreement on Godavari Water projects and key difference's between previous unified AP government agreement and current agreement.
Questioning of Telangana government by TJAC chairman Kondaram and the government response.
Audience appreciated ATA in organizing such an informative/interactive evening with the delegation.
Shri. Karunakar Madhavaram, founding member, explained about the recent success of First World Telangana Convention conducted by American Telangana Convention at Detroit He also explained to agriculture minister and officials on the association's role and proposed awareness programs to be conducted in the state for the benefit of farmers. The minister has promised his cooperation and appreciated ATA coming forward for the benefit of the state.
Evening was concluded with the delegation being felicitated by ATA Treasurer Srinivas Reddy Chada Board of Trustees Narender Reddy Chemarla, Pratap Chintalapani ,Founding Members Satya Kondapalli, Ramchandra Reddy, Satya Kandimalla, Pradeep Kandimalla, Ramchandra Reddy Ade
ATA regional coordinator Ranga Reddy Lenkala thanked Shri. Krupakar Reddy,Joint Director of Agricuture (Retd.),RamMohan Reddy Konda, ATA President Telugu Association of Greater Chicago members Ramu Billakanti, Venkat Gunuganti, Avinash Lattupalli ,Chicago Telangana Association members Venkat Juvvadi, Srinivas Palthepu, Kishan Reddy
FIA President Minhaj Akthar,Media members RamRaj Avadutha, Ugandher Nagesh for their support and Vijay Kothakonda of Tamarind Restaurant for their hospitality.