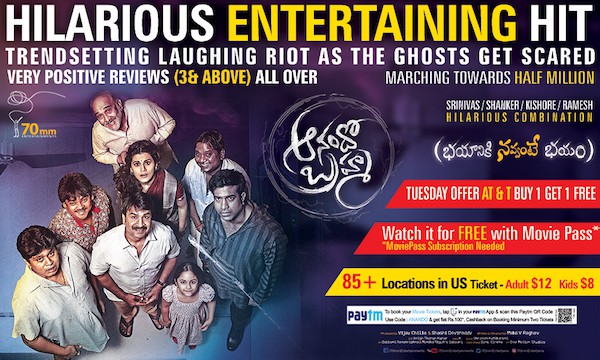 Anando Brahma is talk of the town everywhere in USA. Every section of audience, from Kids to Adults, is unable to contain their laughter when watching this nonstop laugh riot.
Audience can't seem to restrain themselves from laughing for a solid 45 minutes in 2nd half.
Positive reviews and word of mouth have helped the film immensely. This small budget movie grossed nearly 300k+ in the first three days of its release which in itself is a very lofty achievement.
AT&T Tuesdays are your golden opportunity to watch this "HILARIOUS HIT" for half the price.
This offer is valid in most of the Regal, AMC and Cinemark theaters which comprises 90% of the theaters this movie is being screened.
To Avail this Offer:
1) Go to the link https://tickettwosdays.att.com
2) Get the code and buy the tickets from www.movietickets.com
Go, scare the ghosts away!
Press note released by: Indian Clicks, LLC