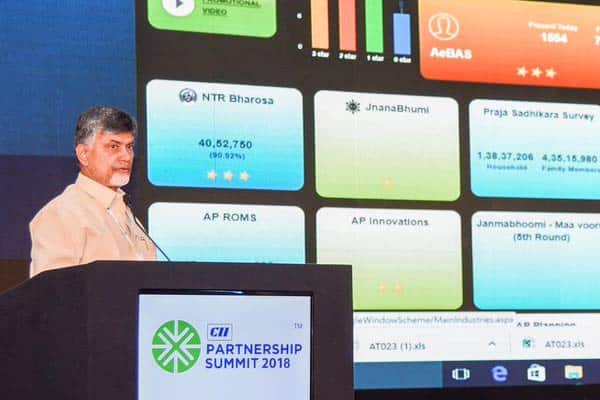 The Andhra Pradesh government signed MoUs worth Rs 4,39,765 crore at the CII Partnership Summit 2018 which concluded here on Monday.
Chief Minister N. Chandrababu Naidu announced that the government signed 734 MoUs with various companies. The investment is expected to create 11,02,125 jobs.
During the first two days, agreements worth nearly Rs 3 lakh crore investment were signed while on the last day, more companies came forward to sign the documents expressing their willingness to invest over Rs 1 lakh crore.
The MoUs signed in the energy sector alone expected to realize in investment of over Rs 1.11 lakh crore.
Addressing the valedictory function of the three-day event, he said the state received investment commitments from several major companies including Reliance, Adani Group, Lulu Group and Google.
Reliance Industries Ltd (RIL) and its partners had on Saturday announced Rs 55,000 crore investment in energy, electronics and other sectors in the state.
Naidu said RIL signed MoUs for three projects. These include a unit at Tirupati to manufacture one million mobile phones. He said the company will also create best ecosystem for innovation incubation, and startups with venture capital.
United Arab Emirates-based Lulu Group signed a MoU to build a convention centre, hotel and shopping mall in Visakhapatnam.
India Gas Solutions Private Ltd, a 50:50 joint venture company of RIL and BP International Ltd (BP) in the business of marketing gas and LNG in India, signed a MoU to develop offshore gas discoveries in Block KGD6 in the Krishna Godavari basin, through three projects with investments up to Rs 40,000 crore.
The Adani Group has announced investment of Rs 9,000 crore including the development of a port at Bhavanapadu.
Naidu said Anantapur will emerge as the automobile hub. He said the first car from Kia Motors's unit will roll out next years. The company will also export cars manufactured in this facility.
The Chief Minister also said he would personally monitor the progress of the projects and assured the investors that all clearances will be granted within 21 days.
"If you have any problem you can bring it to my notice. I am only a call away," he said.
Naidu expressed satisfaction over the successful conduct of the third consecutive Partnership Summit here. This year's event saw the highest ever participation. As many as 4,253 delegates including 280 delegates from 50 countries participated in the summit.
In the industries sector, the state signed 129 MoUs, which is expected to bring Rs 58,337 crore investment and generate 1,31,682 jobs. In mining sector, 31 MoUs worth Rs 12,227 crore were signed.
The MoUs inked in Information Technology, Electronics and Communication sectors will fetch Rs 30,050 crore investment to the state.
Andhra Pradesh Economic Development Board signed 144 MoUs with investment commitment of Rs 1,51,400 crore.
The investment expected in food processing sector is Rs 3,100 crore.
Capital Region Development Authority (CRDA), which is developing new state capital Amaravati, entered into 37 MoUs with various firms to attract investment of Rs 4,964 crore.