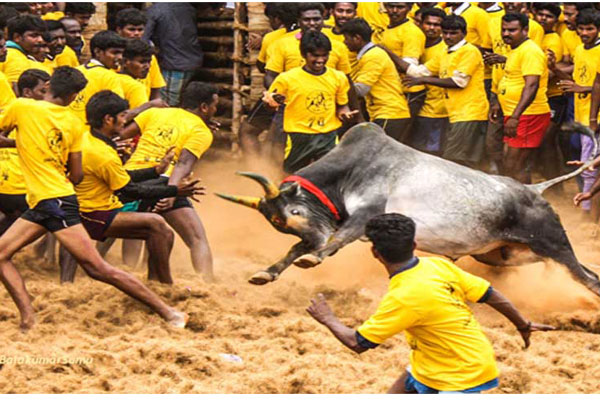 Change is the law of nature but are we transforming from larva to butterfly is a question to be asked. The law has been governing almost everything including the changing traditions. Every festival has a new variant, be it eco-friendly Ganesha, noiseless Diwali, no rooster fights Sankranti or no jallikattu Pongal.
Sankranti is one of the big festivals of south India but it is losing its flavor. Andhra Pradesh and Tamil Nadu have been ordered to change their traditional way of celebrations. Jallikattu in Tamil Nadu and Rooster fights in Andhra Pradesh mark Pongal celebrations.
The Hyderabad high court banned rooster fighting and directed the Andhra Pradesh and Telangana governments to ensure that no rooster fights happen this January. The Supreme Court upheld the high court's decision, however, said that the police and other officials need not seize the roosters, but they could seize instruments.
In Tamil Nadu, Supreme Court has already ruled twice against Jallikattu. However Chief Minister of Tamil Nadu Panneerselvam urged PM to get the environment ministry to "de-notify bulls as performing animals". He insisted to consider promulgating an ordinance to resume the sport Jallikattu on Pongal this year.
The amendment of Animal Welfare Act, 2011 brought bulls under the "exhibiting animals" so they cannot be used as a performing animal for Jallikattu and bullock-cart race. However, Jallikattu must not be confused with bull-fighting in Spain. It is about taming the bull and not creating physical harm by breaking its horns or other parts similar to the bull fight scene of Rana in Bahubali.
Ironically section 28 of the Prevention of Cruelty to Animals Act 1960 exempts the killings under religious practices and reads: "Nothing contained in this Act shall render it an offence to kill any animal in a manner required by the religion of any community." This reflects the hypocrisy of the system that animal slaughter on Bakrid and Dusshera is not cruelty.
Rooster fights need to be banned only when animal slaughtering is made a criminal offence. The defeated roosters are served as feast or discarded but things get murkier when people place immovable properties as bets. This tradition turned into gambling and should come to an end or at least have restrictions. Unlike Andhra Pradesh where the knockout fights to the death are widely practiced, in Tamil Nadu, the winner is decided after three or four rounds.
The High Court pronouncing a ban on animal fights will have a negative impact on the festive mood, but this sport is something shouldn't be passed onto the future generations. Tradition is not to preserve ashes but to pass on the flame.
Telugu360 is always open for the best and bright journalists. If you are interested in full-time or freelance, email us at
Krishna@telugu360.com