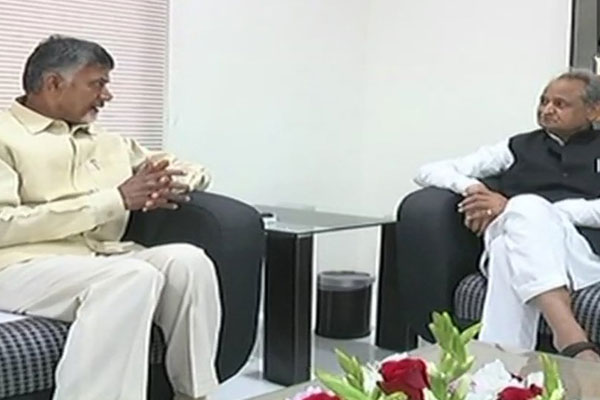 AP CM Chandrababu Naidu met with senior Congress leader Ashok Gehlot in Amaravati capital city to discuss future course of action. They discussed how to go ahead on issues that were discussed at Naidu-Rahul Gandhi November 1 discussion on Opposition unity in the country.
Speaking to the media later, Naidu predicted the unavoidable formation of a national level front to unseat the BJP government at the centre. He said a situation would soon be created when there would be only two fronts – one in favour of BJP and the other against BJP.
Naidu felt that some parties might have irreconcilable differences in their respective state assembly elections but they may broadly come to an agreement in parliamentary polls. He said that it was high time for the Telangana Rashtra Samithi to decide whether to join the pro-BJP or anti-BJP front after Telangana polls.
Naidu is going to meet Mamata Banerjee on November 19 or 20 to discuss the future of anti-BJP front formation. He has already met Rahul Gandhi, Deve Gowda and MK Stalin.
G.Ravikiran
Telugu360 is always open for the best and bright journalists. If you are interested in full-time or freelance, email us at
Krishna@telugu360.com