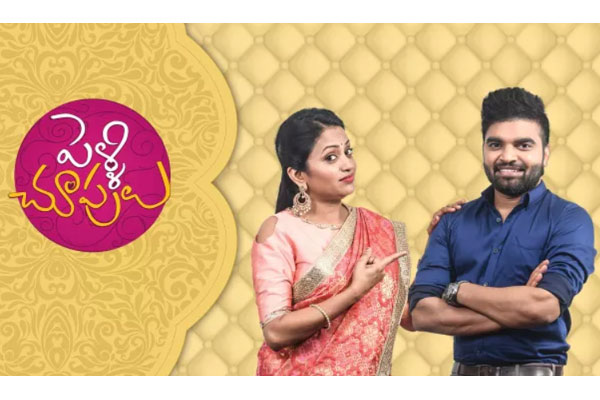 Pelli choopulu TV show finally ended giving relief to Telugu audience. The show started on the same day of the final episode of blockbuster program Bigg Boss 2, but this TV show failed to impress audience at all stages. Right from the day 1, there was negative feedback on the show. Even though Pradeep, number one male anchor in Telugu and Suma, number one female anchor in Telugu are at helm, they couldn't stop the free fall of the ratings of this TV show. Now people are discussing what the main reason is for the failure of this show.
Tamil Version was success:
This show is first of its kind in Telugu. In Tamil, recently hero Arya (Villain in Varudu movie) did similar show "Enga Veetu Mappillai". Heroine Sangeetha was host of the show. The show started in February, continued for 82 days and ended in April. This show also had many controversies and many objected that this show doesn't suit Tamil audience and this is against Tamil culture. However the show finally ended up as success and the show was aired almost for 12 weeks. Even film celebrities used to respond (either positive or negative) on the show and the decisions taken by Arya.
Telugu Version failure:
While Tamil version ran successfully for 12 weeks, Telugu version of this show aired only for 6 weeks and as per reports, makers of the show wrapped it up to minimize the incurring losses from the show. In Telugu too, there were many controversies and some people even filed complaints on the show, and anchors Pradeep and Suma. Some women even did dharna (demonstration) in front of collector office to stop the show. Even Tamil version also had controversies, but Tamil version had both positive and negative reactions.
Main reasons:
There are many reasons for the failure of this show. First one is – Pradeep. Pradeep is an excellent anchor and has great sense of humor. The episode in which he entered Bigg boss house received highest ratings. However, his spontaneity didn't help this show. First of all this show requires someone who has charisma and someone who is not seen very regularly by the audience. Then people will be curious to see how he responds in various situations. In case of Pradeep, he is too familiar to the audience and people almost know how he responds in a given situation. Moreover, Pradeep's anchoring is interesting to watch but not some girls fighting for Pradeep. While this is the main reason for the failure, second reason seems to be the timing. This show started immediately after the blockbuster Bigg boss show and there were unnecessary comparisons between the shows. Moreover, during Bigg boss2 audience really got exhausted and many wanted a break from such reality show. Another reason is – it seems, the time is not yet ripe for this kind of show in Telugu. However, had it been someone else instead of Pradeep, who could generate curiosity among audience, the fate of the show would have been at least little better.
Anyway the show has now come to an end and Pradeep, who started this 2018 year with drunk and drive case, got a totally flop show in his account for the first time.
-ZURAN (@CriticZuran)
Telugu360 is always open for the best and bright journalists. If you are interested in full-time or freelance, email us at
Krishna@telugu360.com