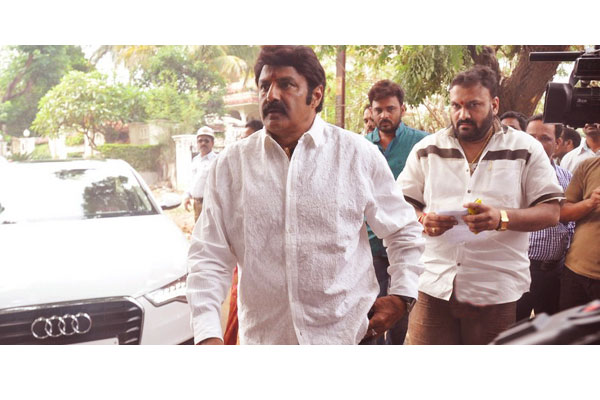 Hindupur TDP MLA, Nandamuri Balakrishna faced a tough and embarrassing question from a journalist in Anantapur. Though not known for witticism, Balakrishna this time round demonstrated the astute politician hiding inside the actor.
The question was, "Would you work to satisfy your fans aspirations by becoming chief minister of Andhra Pradesh? Are you not aspriring to become chief ministers?"
Balaiah, as he fondly called by one and all, denied having any dream of becoming chief minister in a cryptic way. The actor-MLA was in Anantapur yesterday to attend the swearing-in function of Ghouse Mohiuddin, who was appointed chairman, Anantapur Zilla Ganthalaya Samstha. Replying to the journo, he said, " I have never aspired for any position either in party or in government. I tell you, positions should come calling. And I am not the one to hanker for the positions," he clarified.
He had so cleverly handled the situation that he put responsibility of giving away posts and positions on the fans. "You were messengers of NTR and you made him the chief minister. You made me an MLA with your love and affection . You will always get suitable positions in the TDP to leaders like Ghouse ," he added leaving scope of multiple interpretations. He said that the Nandamuri family would always remember the love, affection and loyalty of the fans.