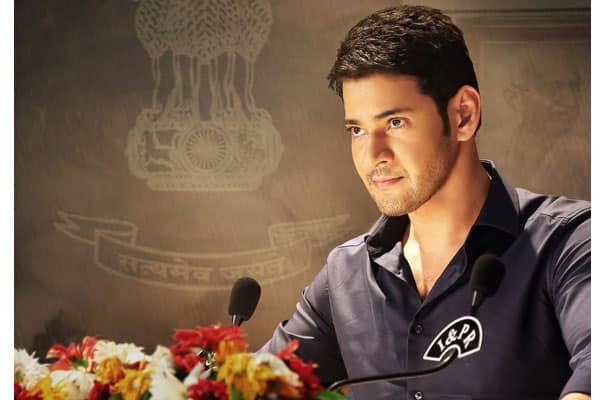 Bharat Ane Nenu review, BAN Review
Telugu360 Rating : 3.5
Bharat Ane Nenu is a movie that happens in United Andhra Pradesh with Mahesh Babu playing the role of an upright, young and dynamic Chief Minister who abides by his promises for the upliftment of weaker sections, is directed by blockbuster director Koratala Siva and has Kiara Advani as the leading lady.
Story: 
Oxford University graduate and UK resident, Bharat returns to home country India, following a tragedy in his family. Due to lobbying among rival factions, God Father Varada makes Bharat as next CM of Andhra Pradesh.  Stricken by the poor living standards of the people in India, Bharat dons the role of a reformist Chief Minister. His honest and rapid steps to bring responsibility and accountability in the society and in the ruling party, form the story.
Performances:  
Mahesh delivers a superb performance that his fan have been anticipating for years. He has donned many class roles, few diverse roles but movies that elevate Mahesh have been missing.  In this film, director Koratala rightly played to Mahesh's strengths by combining class elements with hero elevation.  Mahesh's role is that of a suave, young and dynamic Chief Minster- his styling in this film is unarguably his career best.
Prakash Raj  in a God Father role delivered a composed performance yet again. Time and again, he proves there is just no replacement for him in South Indian cinema. Debutante (in Telugu) Kiara Advani is a good choice for Vasumathi role , she looked pleasant.  Brahmaji delivered nice comedy as PS to CM Bharath. Tamil actor Sharat Kumar played Mahesh's father's role, Amani and Sitara played mother, step-mother roles.   Ajay, Rao Ramesh, Jeeva,Posani Krishna murali, Devraj  got limited roles.
Analysis:
Bharat Ane Nenu starts off in a cool, classy manner and kicks up the commercial elements at right intervals throughout.  Bharat impresses with quick decisions after taking charge as CM – as an amateur CM, his quick learning capabilities, funny assembly scenes etc… make this film's first half a racy entertainer. If you follow Telugu politics regularly you can't miss some uncanny resemblances to real life characters (A lady MLA in Opposition party who is dressed well, son of opposition party  leader stuck in disproportionate asset cases etc).  Without turning preachy, the director manages to carry the social responsibility, accountability threads with ease.  Hero elevation in the thirty minutes pre-interval and post interval scenes are excellent. "I don't know" , "Bharat Ane Nenu" songs are well pictured in first half. "Ide Kalala Vunnadhe" song is average w.r.t tunes, but picturization is superbly rich. On a whole, songs are an asset for Bharath Ane Nenu. Producer D.V.V. Danayya must be appreciated for the  lavish production scale.
Second half has super mass elements in form of Rayalaseema Durgamahal fight sequence, Vachadayyo Saami song,  Peoples' Army to protect Bharath and pre-climax Press Meet which are the highlight blocks .  Last song " Oh  Vasumathee  "  is again a good attraction. Director has succeeded knitting commercial elements in second half, but story wise there is nothing out of the ordinary. CM Bharath's resignation and again becoming CM are bit farfetched. Without dragging much, a simple climax ends Bharath Ane Nenu.   Family elements, heroine thread are not much of importance but came out decently.
Technicians: 
Cinematography by Ravi K. Chandran and Tirru is top class. Tunes and Background score by Devi Sri Prasad is superb yet again.  Movie after movie Devi Sri Prasad is turning to be one of the key factors for success.  A.Sreekar Prasad 's editing is clean.  Producer DVV spent very lavishly and every rupee is visible on screen. Director Koratala has packed better commercial elements than Srimanthudu, Janatha Garage but per emotional connect his Srimanthudu work was little better.
Positives:
Mahesh Babu as CM Bharat – Career best performance
Social accountability concept
Superb Songs – Visually very grand
Sarcastic dig at politicians, media
Heroism elevating scenes in second half
Negatives:
Redundant theme (about society) in mid second half
Last 10 minutes
Verdict:
'Bharat Ane Nenu' is a super hit mass & class appealing film. Major highlights are Bharath's characterization, Maheshbabu's unarguably career best looks, lavish production values , Koratala's dialogues , superb songs and epic action episodes all are tightly packed. On flip side , with so many highly elevated scenes, post press meet the film "climax " is a "wee bit" let down. Overall, a commercial potboiler with solid message about social responsibility!!
Telugu360 Rating : 3.5
Release Date : 20th April, 2018
Director : Koratala Siva
Music Director : Devi Sri Prasad
Production: DVV Entertainments
Starring : Mahesh Babu, Kiara Advani