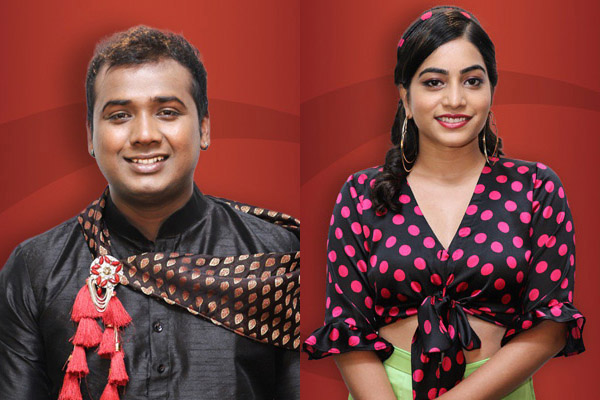 Bigg boss Telugu season 3 is going in full swing and offering all kinds of emotions and entertainment to the audience. One of the threads, that interested and entertained the audience during this season is the track between Rahul and Punarnavi.
Rahul sipligunj is one of the noted singers in tollywood who entered Bigg boss season 3 Telugu. Actress punarnavi is known to the audience through her cute performance in the film Uyyala Jampala. Within couple of days after entering into the house, Rahul started trying to impress Punarnavi. In fact at this moment, other housemates as well as the audience think that- vithika, Varun, Punarnavi and Rahul are in one group. Audience could clearly see Rahul's efforts to impress Punarnavi.
Housemates reactions:
One day he jokingly asked her whether she will accept his love if he proposes after coming out of the show by giving her a ring. She didn't reply and immediately Rahul told that he was just kidding. Another day, he wore the dress that exactly matches with her dress i.e. yellow top and white pant. But all these tactics could not go unnoticed by other housemates. Even though he told that it was pure coincidence and he doesn't know that she is going to wear that colour, housemates like Rohini made fun of Rahul efforts.
Nagarjuna and Vennela Kishore satires:
Not only housemates but even Nagarjuna poked Rahul on this topic. When Mahesh Vitta was dancing with punarnavi, Nagarjuna said jokingly, " From somewhere, the smell of burning something is coming". Later when Punarnavi was dancing with Ravi, Ali Reza went and brought a fire extinguisher and told that this will help if something is burning somewhere, indirectly referring that Rahul might be jealous of Navi dancing with others. But the best punch on this topic came from vennela Kishore who joined the show last weekend. He told Rahul that he is best "Pulihora recipe". Even though Kishore didn't tell anything else, his intention conveyed to the housemates as well as the audience so clearly that all of them split into laughs immediately.
Will have to wait and see whether this track will proceed further or stopped intermittently in the house, given the fact that Rahul is in the nominations this week. Last week Tamanna got evicted from the house but as per the reports Rahul also got very less votes but got just a little more votes than Tamanna. It was mainly because of his "Faltoo" talk on some of the housemates. Moreover, some section of audience say that, both Punarnavi and Rahul are doing this just for the sake of time pass in the house and to give some sort of entertainment to the audience so that they will stay longer in the house.
We will have to wait and see how will this"track" proceed.
Telugu360 is always open for the best and bright journalists. If you are interested in full-time or freelance, email us at
Krishna@telugu360.com