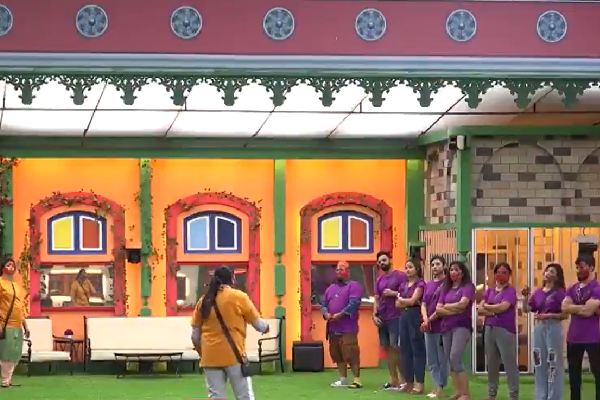 Monday is the day of nominations. This week Bigg bond played a small trick for nominations. This made the nomination process interesting. Details as follows
Bigg boss divided the housemates into 2 teams today. Lobo, Vishwa, Priya, Priyanka, Hamida, Annie, Uma, Sriram and Shanmukh were in one team that is called eagles team while the rest of them are in wolf team. Some housemates thought this grouping is for a task and they warmed up themselves. But later Bigg boss gave a twist and told housemates have to nominate the members belonging to the other group only.
Uma's foul language during the nominations:
Siri nominated Uma and Nataraj master. Annie master nominated Uma and Kajal. Uma, being a vegetarian, has some concern about washing dishes used for non-veg. Today there was some argument between Uma and Lobo regarding the same topic. This argument was not liked by some housemates and they nominated Uma for this. Viswa too nominated Uma for fighting over a petty issue. She lost control at that point and used foul language. Uma nominated Annie master because of the fight happened over non veg issue. She also nominated Vishwa, again for an issue related to food. Her fight with Annie master looked awkward. Shanmukh nominated Uma for her foul language in the house.
Swetha's outburst:
Lahari nominated Hamida and Annie master. Hamida retaliated by nominating Lahari. Lobo nominated Swetha and Ravi. Swetha retaliated by throwing off Lobo's friendship band. She went on and gave a speech on humanity and that won applause from all the housemates. She chided Uma despite being from same team. She supported Annie master despite being from opposite team. However, in the end , she nominated Hamida and while doing so she behaved rude. She also nominated Lobo. Her double standards of talking about humanity and yet behaving rude was questioned by Priya. She apologised for her rude behaviour later.
Tit for tat:
Other housemates nominated those who nominated them. Nataraj master nominated Priya and Priyanka. Sunny too nominated Priya and Priyanka almost for the same reasons. Priyanka retaliated by nominating Nataraj master and Sunny. Manas nominated Lobo and clearly told that he is nominating because Lobo hindered him during Captaincy task. He also nominated Priya. Kajal nominated Vishwa and Annie master. Priya nominated Nataraj master and Sunny and both of them nominated her earlier.
Overall, Uma, Nataraj, Kajal, Lobo, Annie, Priyanka, Priya were nominated for the elimination this week.