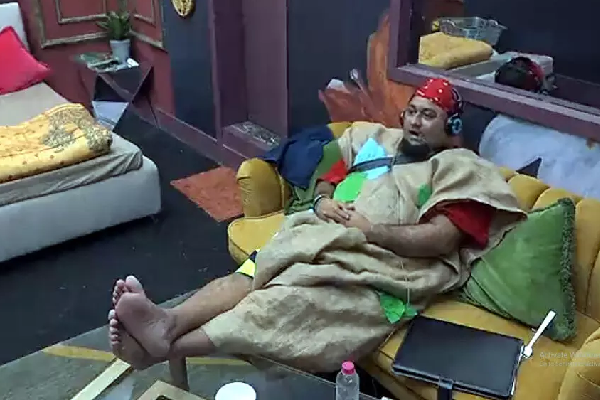 In Bigg Boss house, some interesting events happened today. Details as follows.
Captaincy contenders:
Bangaru Kodi Petta task got completed today. Bigg boss asked the captain Vishwa to count the eggs each member had. After the counting, top 5 contestants are – Sunny, Sriram, Ravi, Vishwa, Manas. However later Kajal cans into race and Sriram was out. These 5 housemates will compete with each other to become captain of the house.
Jessie lost the secret task:
It is known news that Jessie was given a secret task by the Bigg boss. He had to ensure three housemates have no eggs with them at the end of the second round. He took help from Siri. But Siri to help from 3 more housemates – Priya, Priyanka and Shanmukh- as she convinced them to loose eggs. In fact these 3 contestants had no eggs with them at the end of the last round. But Bigg boss as well as the audience expected Jessie to either steal or destroy eggs of others as part of the task. But he achieved it by convincing them. Bigg boss finally announced that it is not the way to perform this secret task and disqualified him from captaincy race.
Lobo re entry
Lobo, who has been in secret room for last couple of days , joined the house back today. All the housemates were so excited to see Lobo but Siri, Shanmukh and Jessie were so caught up with their own things and didn't bother about Lobo.
Bigg boss gave Lobo two eggs- one in black and another in gold colour. By giving black egg, he can make one contender disqualified from the captaincy race. He chose Sriram for that. By giving gold egg, he can make one housemate contender for captaincy task. He chose Kajal for that. Kajal was literally in tears after becoming the contender for Captaincy task.
Shanmukh irritates:
Shanmukh is the laziest person in the house. He is always seen sitting on couch or lying in bed. After Jessie losing the secret task, Shanmukh got offended with Siri for spoiling his game. Siri tried to pamper him but he didn't oblige. The entire episode of these pampering was irritating to the audience. Siri crying whenever Shanmukh avoids him also became monotonous. Overall the trio of Shanmukh, Jessie and Siri is irritating the audience a lot nowadays. They are looking too self occupied and selfish. They don't even bother what is happening in the house. They did not even bother to greet the housemate who returned after eviction.
Overall it was a good episode.