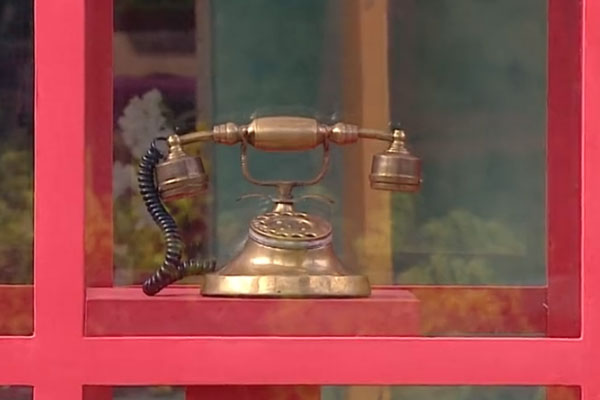 Monday is nomination day in Bigg boss. Each week there will be different task or theme to identify the housemates who will be nominated. Today there is telephone booth task and each housemate will get a phone call from Bigg boss and they will be nominated directly. However, if they want to get saved, they need to get one particular housemate do some sacrifice.
The details of the Telephone booth tasks and sacrifices as below:
Sreemukhi has to convince Baba Bhaskar do a complete shave and he did it and so Sreemukhi got saved
Punarnavi had to ensure Rahul drink 20 glasses of bitter gourd juice to get saved. Rahul did it though he vomited during the task
Baba Bhaskar has to convince Ravi dip all his shoes in red paint and Ravi did it for Baba
Varun has to ensure Sreemukhi have Bigg boss permanent tattoo on her hand and Sreemukhi did that
Shivajyothy ensured Mahesh painted his hair red and got saved
Himaja has to ensure Varun lay in the tub full of cow dung mixed water until further notice of Bigg boss. Varun did it for Himaja and she got saved
Mahesh vitta has to ensure Himaja give away all her clothes and make up items. She agreed to do the task and did it but some items were left out and so Bigg boss announced Mahesh is not saved and he is nominated for this week's eviction
Rahul, Ravi and Vitika didn't get telephone call from Bigg boss in this episode yet. As Vitika is captain, she may not get the call but Rahul and Ravi are yet to get the call.
Out of these tasks, some are very easy but some are very tough. For example, Himaja had to ensure Varun has to lay in tub full of water mixed with cow dung. It was very difficult for him and he got vomited. Rahul drinking 20 glasses of bitter gourd also tough task and Punarnavi kissed on his cheek after he did the task for her. Sreemukhi agreeing to have permanent tattoo of Bigg boss also was a tough decision.
Dearth of ideas for Bigg boss?
This telephone booth task was there in Bigg boss 2 as well. Moreover sub-tasks like drinking bitter gourd juice, having Bigg boss tattoo were done by Deepthi Nallamothu and Geetha Madhuri in last season. There was sort of disappointment from audience as Bigg boss tasks are getting repetitive. It is known news that recent Ghosts vs humans task also was a repetitive task across seasons.
Today's nomination process is yet to complete. It is rare to see nomination process not getting completed within Monday episode. We will have to wait tomorrow's episode to see who are all in nominations this week.