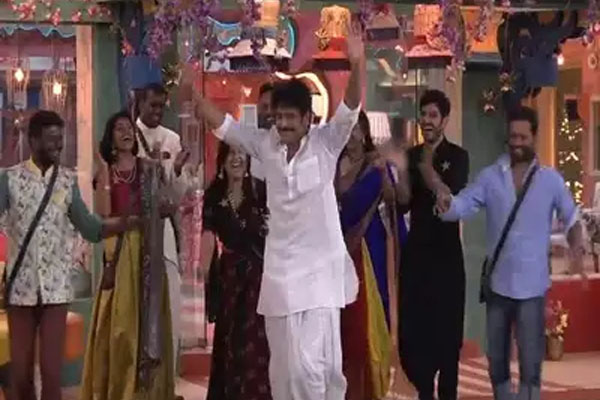 As everyone knows, Nagarjuna entered the house on the occasion of Dasara. Housemates got excited to have Nagarjuna as their special guest after their food Mela task. In today's episode, housemates had gala time with Nagarjuna
Star of the house and Ticket to special dinner:
All the housemates played some fun tasks with Nagarjuna today. Nagarjuna asked housemates to sing songs after filling the balloon. This task generated laughs in the house as the voices got tweaked while they are singing. After this Nagarjuna asked housemates to select the star of the house and explain the reasons for the same. Ali and Mahesh chose Shiva Jyothy as the star of the house. Both of them appreciated Shiva Jyothy's dedication during the tasks. Vithika and Rahul chose Varun as the star of the house for his genuineness. Sreemukhi selected Baba and Baba selected Sreemukhi. As Shiva Jyothy and Varun got 2 stars each, they are given the ticket to a special dinner for the next 4 days. They can't share the dinner with other housemates.
What is your biggest success in life?
Nagarjuna later asked all the housemates to explain one biggest success in their lives. Baba told, receiving the Filmfare award was the biggest success in life as he received that award along with his father. Sreemukhi told, living the dreams of her mother is the success for her, as it is because of her she left her BDS course to try in TV and cinema industries. Rahul told, getting recognized by people after his youtube videos going viral is the success for him. Varun told getting married to Vithika is his biggest success as she made him 'complete' in his life. Vithika told, after getting rejected in the auditions for anchor position, 12 years ago and now being in the same studio as Bigg boss contestant is the success for her. Moreover entering this show as a couple, is the success for her. Mahesh told, getting recognized by the audience is his success. Shiva Jyothy said, after marriage, settling in life with the own earnings is the success for her as none in the family supported their marriage. Ali told, his marriage is a big success for him in life.
It looked like, Nagarjuna too enjoyed himself in the house. He too tapped his feet before leaving the house. Overall, Nagarjuna's presence in the house gave a lot of energy to the housemates.