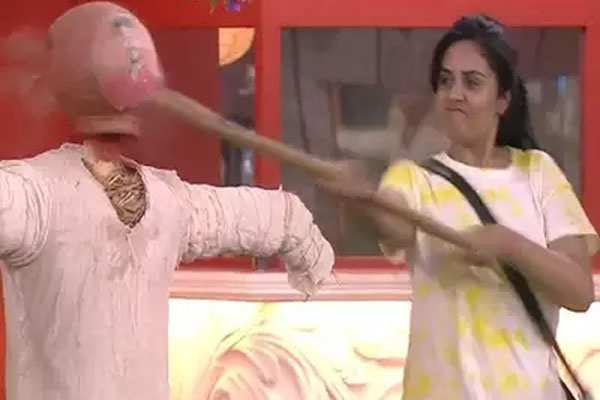 In Bigg boss, there was 'Hunt and Hit' task. As per this task, each of the housemates will be shown a video in which other housemates bad-mouthed that contest in his or her absence. After seeing the video, they can call and discuss with those housemates about that video and after the discussion, they can paste the face of a contestant on a pot and break that pot.
Baba Bhaskar was shown the video in which Rahul and Ali bad-mouthed him. Baba broke Ali's face. Vithika was also shown a video in which Ali bad-mouthed about her. Varun came to her support and there was an argument between Ali and Varun-Vithika couple. Varun also was shown video in which both Rahul and Ali bad-mouthed him but Varun spoke only to Ali about the video. Sreemukhi was shown a video in which Mahesh was saying that he will eliminate Sreemukhi from the show if he is given such powers. Sremukhi broke pot with Mahesh's face without even explaining to him about the video. Shiva Jyothi also bad-mouthed Sreemukhi and both of them argued for a while on the same. Mahesh later broke the pot with Sreemukhi face as he was shown video in which Sreemukhi bad-mouthed Mahesh. Shiva Jyothi broke pot with Rahul's face. It was Ali and Mahesh who got targetted the most as they passed most of the negative remarks on other housemates.
Later there was Bigg boss birthday celebrations in the house. Also, Baba and Shiva Jyothi got special dinners as they won in the star of the house task.
Bigg boss ploy to eliminate Mahesh this week?
This week, Varun, Rahul, and Mahesh are in nominations. As everyone knows, Varun-Vithika-Rahul-Punarnavi (VVRP) formed a gang in the house and most of the audience fall in the categories of either support this gang or hate this gang. The audience that hates this gang support Sreemukhi and Baba Bhaskar mostly. So, this week, most of the audience who don't support the VVRP gang voted for Mahesh initially.
But Bigg boss cleverly highlighted the videos in which Mahesh bad-mouthed Sreemukhi and showed the video in which Mahesh told, he will eliminate Sreemukhi if he is given such powers. This may impact Mahesh's voting as he doesn't have his own voting and all the votes to him are mostly based on other factors. So, it is now more or less confirmed that Mahesh will be eliminated this week.