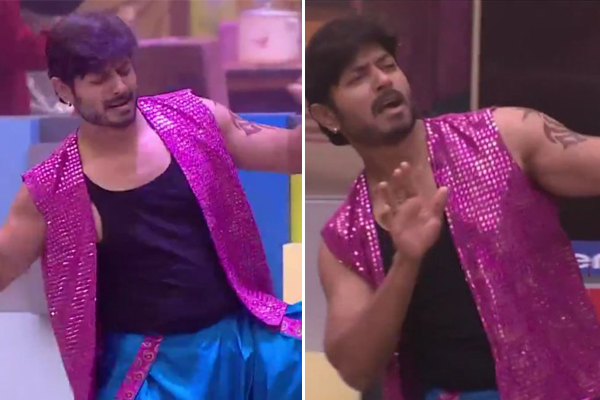 Yesterday Bigg Boss started a task and as per the task, all the housemates were allotted different songs to them and whenever that particular song is being played the housemate who has been allotted that song has to come to the dance floor and dance for the song.
Today's episode was full of fun. Bigg Boss teased Kaushal by playing his song when his Dhoti was loosen. Kaushal held his dhoti with hand and danced. The song stopped for a brief period and Kaushal went to adjust his Dhoti but Big Boss played the song again without giving him time to adjust his dress. Bigg boss repeated the same process couple of times that evoked a few laughs among audience. Similarly, Geetha Madhuri was about to go to washroom but Big Boss played her song. She came to dance floor and tapped a few movements but asked bigg boss to allow her to go to washroom. Bigg Boss stopped the song for some time and Geetha Madhuri started walking towards washroom. When she was just about to reach washroom, he played the song again and she had to come running towards Dance Floor. Bigg Boss did the same with Roll Rida too by playing his song whenever he is far from the dance floor. As soon as the song started , Roll Rida came running to the dance floor but the song was stopped after he danced for a few seconds. Bigg Boss repeated the same process to generate a few laughs.
Other tasks during this episode also generated some lighter moments. Especially when she was trying to draw a picture, inadvertently the picture gave some suggestive meaning and all the housemates were literally rolling on the floor laughing. Anyway, this is one task that had less confrontations and more entertainment in the Bigg boss house.
Telugu360 is always open for the best and bright journalists. If you are interested in full-time or freelance, email us at
Krishna@telugu360.com