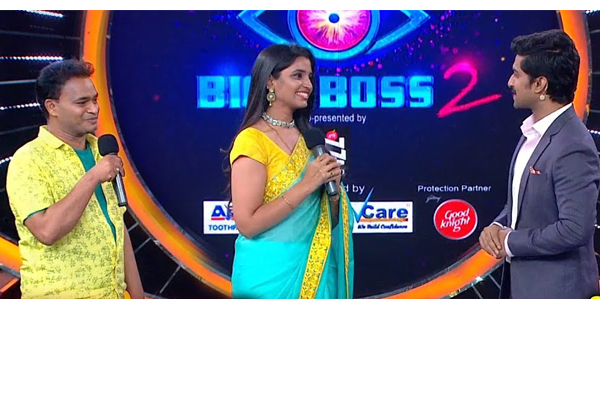 Bigg Boss show usually have nomination process on Monday. Some of the housemates will be nominated for eviction from the house on Monday and audience can vote for their favorite contestant so that they can continue in the house of Bigg Boss and whoever gets less votes will be out of the house. This week totally 6 members nominated for eviction- Pooja Ramachandran, Geetha Madhuri, Roll Rida, Deepthi Sunaina, Shyamala and Nutan Naidu.
Tanish, who is captain of the house and Amit ,who got protection cover for two weeks from Kamal Hassan earlier , were exempted from the nomination process this week. Rest of the housemates were asked by Big Boss to select one person each from other housemates and then they will all form pairs. From each pair, one person will be nominated and the other will be saved from nomination. housemates can self nominate themselves or justify why they want to continue in the house. Later Tanish and Amit can take decision on whom to nominate.
Nutan Naidu nominated himself and Deepti nallamothu was saved. Roll Rida also nominated himself to save Ganesh because earlier Ganesh saved him from nomination. Geetha Madhuri, Deepthi Sunaina and Pooja were nominated after debates and discussions among Amit, Tanish and other saved candidates.
Finally, Bigg Boss gave a twist and asked Tanish, who is captain of the house, to nominate one more person from those who already got saved from nomination. Samrat ,Kaushal, Shyamala, Deepthi and Ganesh were already saved from nomination and captain has to choose one from these. Tanish chose Shyamala for nomination and he gave the reason for his decision. He told, rest of all candidates have been in the house for more than 60 days whereas Shyamala recently re-entered. So, instead of nominated someone who has been taking all the stress for last 60 days , he wanted to choose someone who already had some sort of advantage. Shyamala had that advantage because even though she was evicted earlier, she reentered the house recently.
So , with this twist, along with others, both the re-entered candidates – Nutan Naidu and Shyamala joined the list of candidates nominated for eviction.