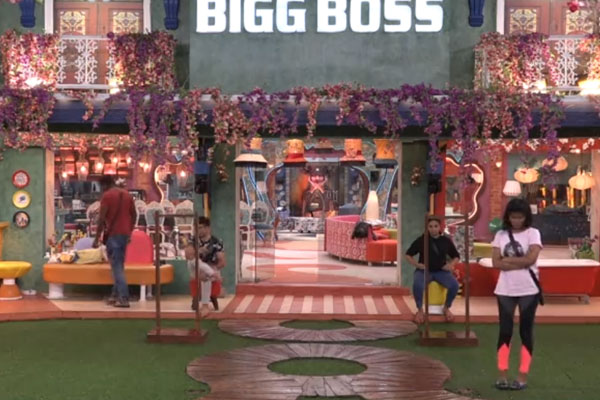 In each Bigg boss season, there will be a ticket to the finale task and whoever wins this task will reach the Finale directly. In Bigg boss season 2, Samrat reached finale in such task. In season 3, ticket to finale started today.
Initially, Bigg boss asked housemates to select some colors that are available. After they did that, Bigg boss revealed that Ali got 70% points, Sreemukhi got 50% points,, Rahul got 50% points, Varun got 40%, Shiva Jyothy got 60% and Baba got 40% points. Now they start from here and as they perform tasks, they gain or lose points to their opponents. Who will play each task is decided by the attentiveness of the contestants. There are bells tied and as soon as the buzzer is given, the two contestants who ring the bell first will play the task.
Physical task between Rahul and Varun:
The first task was played between Ali and Shiva Jyothy and Ali won the task. Later, Varun and Rahul played a physical task as per which the two contestants will be given bags with thermocol balls and the contestant has to empty the opponent's bag. Both Varun and Rahul fought tooth and nail but finally, Rahul won the task. Then, the next was played between Baba and Sreemukhi. Toy alphabets will be placed in mud pits and they have to pull them out with their mouths without using hands. Whoever collects maximum alphabets within the given time will be the winner. Both of them collected alphabets equal in number but Bigg boss announced Baba as the winner as he took alphabets from both the pits first.
Task turned violent between Ali and Baba:
As it was already midnight, housemates thought the next buzzer will be the next day but Bigg boss gave the buzzer at midnight when the housemates are all sleeping. Baba Bhaskar and Ali were attentive and ran to reach the bell. Bigg boss conducted the game between Ali and Baba. As per this game, both have to plant in the pit different colors of plants and contestants can remove the plants of the opponents and whoever retains their plants will win. Ali looked aggressive in this game and Baba looked no match for him in this physical task. However, this task will be continued in the next episode.
Who will reach the finale:
As of now, it looks like Ali is in an advantageous position. Except for the one winning this ticket to finale, the rest of all will be in nominations this week.