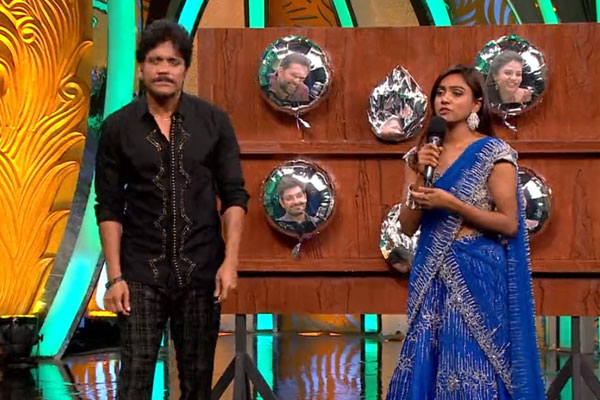 Today's episode of Bigg boss is mostly filled with fun tasks. There are some dance performances and some fun games in this episode.
Dance performances:
All the housemates performed dances today. Ali performed for 'My name is Billa song', Sreemukhi for song from Anukokunda Oka Roju movie, Baba for Julai title song, Vithika for 'Aggipulla' song from Mr. Perfect movie. Varun for 'Rajadhi Raja' song from Gharshana movie and Rahul for Mutha Mestri song. However, it was Shiva Jyothy who got more marks as she improved a lot in dancing in these 90 days.
Fun games:
Later, Nagarjuna asked Varun and Vithika to play a blindfold game. Both are blindfolded and given stress balls to beat each other. Similarly, Rahul and Ali did blindfold boxing. Shiva Jyothy blindfolded and then was asked to attach the tail to the animal picture on the board. Sreemukhi was asked to dance blindfold while water glasses are kept on the floor.
Nominations:
Yesterday, Sreemukhi, Rahul and Baba got saved. Today, Ali, Shiva Jyothy got saved during the fun tasks. So, finally it was Varun and Vithika who were left and Nagarjuna was about to announce the eviction. While the couple was anxious about the announcement, audiences were more or less clear that Vithika will leave today. It was predicted by many already.
Click here: Tidbits: Vithika to be eliminated this week?
The way she handled the medallion task got her lots of negativity. Moreover, Varun and Vithika playing the combined game instead of individual game also brought negativity to her. She somehow got the image of a cunning lady. She didn't come to nominations for many weeks and that also gave the impression that Bigg Boss team is saving her intentionally and that also brought negativity. These are the main reasons for her eviction.
After the eviction:
As the couple got separated, they felt very emotional and Vithika was seen giving suggestions to Varun on the rest of the game. Nagarjuna appreciated Vithika for the nice relation with her husband. Then, when asked about whether she will reenter the Bigg Boss if given a chance, she replied, she will not reenter.
Vithika made surprising comments on Rahul that she has doubt whether Rahul maintained a fake relationship with them in the initial weeks for the sake of the game. She did not speak anything negative on Shiva Jyothy despite the fact that it is because of her she came to nominations this week. Finally, she threw the Big bomb on Rahul.