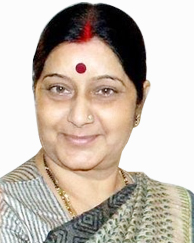 The ruling BJP seems to be in deep trouble as its key leader and union external affairs minister admitted that her role in the grant of UK visa to tainted IPL former chief Lalit Modi.
The Congress and other allies of UPA are already staging protests outside the residence of Sushma Swaraj demanding her resignation. This sensational revelation of Swaraj has not only kept the ruling party at power but also gave a powerful weapon total Congress.
Now that BJP has apparently fallen into defense, what will happen to its ally TDP-which is embroiled in cash for vote scam- in Andhra Prades has now become an interesting debate.
Earlier, there were reports that Centre would protect Chandrababu Naidu. Now that Sushma's episode hit the headlines, will they really involve themselves in another trouble is a million dollar question!