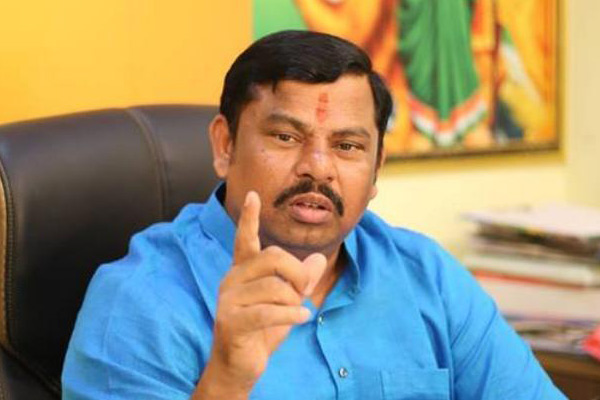 Controversial BJP MLA from Telangana State, Raja Singh on Tuesday revolted against his own party leadership by leveling serious allegations against top BJP leaders in state.
Raja Singh is the only MLA representing BJP in the Telangana Legislative Assembly.
Raja Singh alleged that top BJP leaders in state had worked to defeat him in 2018 Assembly polls but he could survive due to the blessings of God and the people of his Goshamahal constituency in Hyderabad
Though BJP heavyweights and sitting MLA like G Kishan Reddy, K Laxman, Chintala Ramachandra Reddy and NVSS Prabhakar lost their MLA seats in the "TRS wave" in December 2018 Assembly polls, Raja Singh was the lone sitting BJP MLA, who could withstand TRS wave and emerged victorious.
Speaking to media in Hyderabad on Tuesday , Raja Singh accused the BJP leaders in Telangana of deliberately ignoring him and sidelining him in all the party activities in the state. He also accused the BJP top leaders of not even recognizing him as the BJP's Legislature Party leader in the Telangana Legislative Assembly.
Known as a hardcore "Hindutva" leader in Telangana BJP, Raja Singh sparked several controversies since 2014, when he was first elected as MLA with his sharp remarks and criticism against Minorities, especially the AIMIM , accusing it of making Old City as the 'den' for illegal Pakistan migrants and a harbor of terrorists.
He said the BJP state unit president Dr K Laxman defeat in Assembly polls was due to his preoccupation with the party office works and not being able to focus on the constituency.
He charged the Union Minister of State for Home Kishan Reddy for not adhering to the protocol and not even giving information to him on visit to his Maharajgunj constituency.
He said MPs Bandi Sanjay and Aravind besides DK Aruna are efficient to lead BJP in Telangana for 2023 Assembly polls.
Raja Singh described UP Chief Minister Yogi Adityanadh as his political guru.
He remarked that he had no interest to become the BJP state unit president and his areas of focus are safeguarding the Hindu dharma and cows.
He alleged that senior leaders in the party worked for his electoral defeat while the party workers put everything at stake to get him elected as MLA.
Revolting against his own party leadership is not new for Raja Singh. In his first term as MLA, he lodged complaint with the BJP national president Amit Shah against then MLA, now union minister Kishan Reddy for sidelining him in the party.
He even announced to have resigned from the BJP to take part in "Go Raksha movement" in August 2018 claiming that he did it to save PM Narendra Modi, Amit Shah and BJP from embarrassment of BJP MLA