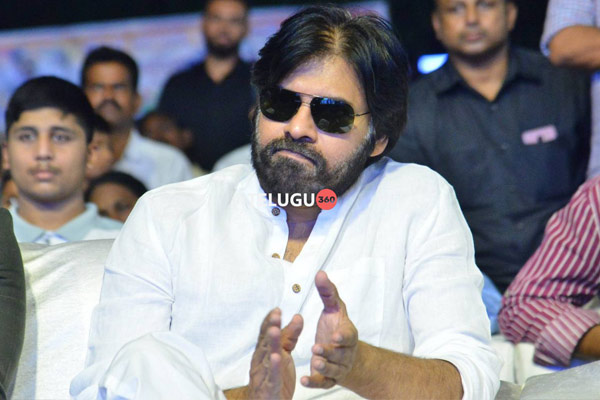 There is ongoing war between Pawan Kalyan and a few media channels. As everyone knows it all started with Pawan Kalyan accusing a few channels colluding with ruling TDP party after Sri Reddy using cuss word against his mother. After this war, people became curious to see how these channels behave when it comes to Pawan Kalyan's news.
As everybody expected, these channels stopped scrolling Pawan Kalyan's tweets and political news and Janasainiks feel they are not getting to know the complete news of Pawan Kalyan because of this. It is understandable from the perspective of these channels banning the news of Pawan Kalyan as he went too personal on some of them. But it is surprising to see the same channels covering the events for which Pawan Kalyan is the chief guest and telecasting the event and speeches of Pawan. Even though, this will be an affair between the producer of the movie and the TV channels and this will not have any interference of Pawan, TV channels have every right and every opportunity to say "No" to cover these events if they are too particular on banning Pawan's news. But it seems channels do not want to take that chance as they know there will be huge TRPs for such film based events and moreover when huge star like Pawan is attending such events. So, we can infer, these channels don't dare to lose the TRPs by not covering such events because if they don't cover obviously other channels will cover.
If we apply the same logic to upcoming Pawan Kalyan's political tour, there is high probability that these channels will definitely cover the news of it. But only thing they may do is to cut short the coverage for his tour and present it in neutral manner – unlike the earlier events where these channels extensively and positively covered each and every move of Pawan Kalyan. Pawan Kalyan's state tour will be started from next week. It seems, Pawan Kalyan wants to cover the villages of the state and he will be starting the tour from Srikakulam district.
People are curious to see how these channels will cover this tour – whether they will completely avoid or whether they will cut short the coverage or whether they will cover the tour but later take a dig at his speeches and his mistakes during the debates in their channels. As of now, it looks, channels have mellowed down on the aggressive debates and going neutral on most of the news they are presenting. So we can expect the same trend during Pawan's upcoming tour as well.
-ZURAN
Telugu360 is always open for the best and bright journalists. If you are interested in full-time or freelance, email us at
[email protected]