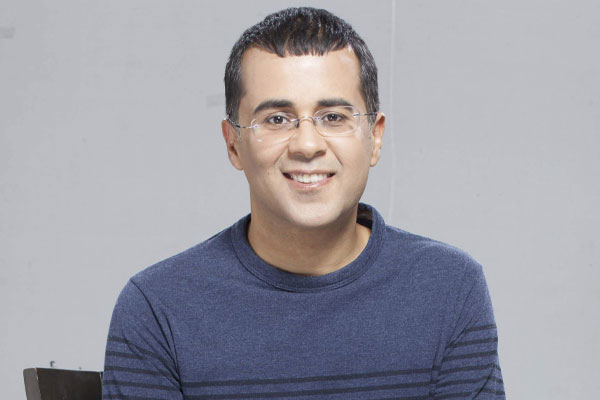 Writer Chetan Bhagat set a trend in English novels in India. At a time when novel reading habit was dying in India, his novels brought a fresh lease to the market of English novels in India. His blog posts, his feminist views and his political views are widely followed by Indian youth and he has terrific following among urban youth of India. However, he too landed into controversy after a woman made allegations of harassment on him.
Chetan Bhagat is IIT graduated and IIM MBA. His 'fivepoint someone' novel is base for Ameer Khan's 3 idiots movie. His 'one night at call center' novel is made into a movie in which Salman Khan appears in a cameo role. However, basic premise of Chennai Express movie has some similarities to this novel.
The issue started after a recent tweet, in which Chetan Bhagat was accused of sexual harassment, gone viral. The tweet comprised of screenshots of Chetan Bhagat's conversation with a journalist in which he wrote, he wanted to 'woo' her. Despite the journalist reminding that she is married and Chetan also a married person, he continued the whatsapp chat in the same tone.
Later, Chetan Bhagat shared a long response to the allegations made against him in a Facebook post. He admitted it was him who sent those messages. He apologized the woman as well as his wife. He also reiterated that he never had anything 'physical' with her.
We will have to wait and see how many of these kind of incidents will come out in future. "MeToo" in India seems to have just begun.
My response to the screenshots, that just came a couple of hours ago. Been as truthful about it as possible : https://t.co/1JC7kVcodl

— Chetan Bhagat (@chetan_bhagat) October 6, 2018