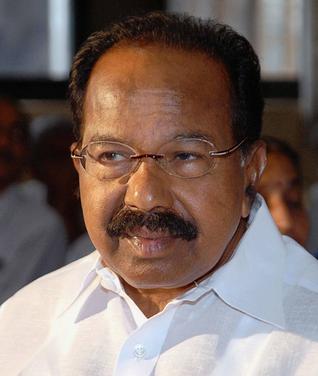 M Veerappa Moily, former union law minister, is a sort of intellectual.  He wrote a couple of books. But those, who saw him as the AICC in-charge general secretary Andhra Pradesh Congress, might have noticed his depth of scholarship- a shallow one.
Now, the Congress MP from Karnataka stands exposed. Recently, he wrote an article  "From Welfare to Paternalism" and this was published in The Hindu.
But, it turned out be a verbatim copy of another article titled "Modi's War on Welfare" by G. Sampath published in the same newspaper.
Finally, the popular English daily of South India had to issue a clarification stating that Moily's article had been found to have  copied verbatim  from Sampath's piece carried on May 26. What a Shame.
Unabashedly, when The Hindu sought his clarification, Moily admitted that he did take some inputs from Sampaths article. He said  he should have acknowledged it. Now, The Hindu has withdrawn Moily's great analysis from its online edition.
This is the sort of fake intellectual Sonia Gandhi banked upon to strengthen the Congress in erstwhile Andhra Pradesh. Result is there for all to be seen.
Recently, Birla foundation conferred Saraswati Samman on him for his Kannada Poem " Ramayana Mahanveshanam". One should examine the poem if it was his own or copied or ghost-authored by somebody else.