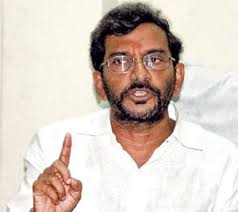 TDP polit bureau member Somireddy Chandramohan Reddy has expressed his anguish over the language of Telangana chief minister K Chandrashekar Rao. Alleging that KCR's language was crossing boundaries, he said that people of Telangana elected KCR as their chief minister for the development of the state and definitely not to take pot shots at the leaders of Andhra Pradesh.
Come down heavily on matters pertaining to Pattiseema project, Somireddy stressed that neither KCR not KTR has no right to speak a word on Pattiseema works.
He made these remarks in the wake of recent comments made by KCR on Chandrababu Naidu regarding irrigation developments besides the infamous cash-for-vote scam.
The experts observed that although KCR is working towards the development of Telangana state, he must quit the language that he often used in public meetings to hog the limelight given he's the chief minister of a state now.
(BPK)