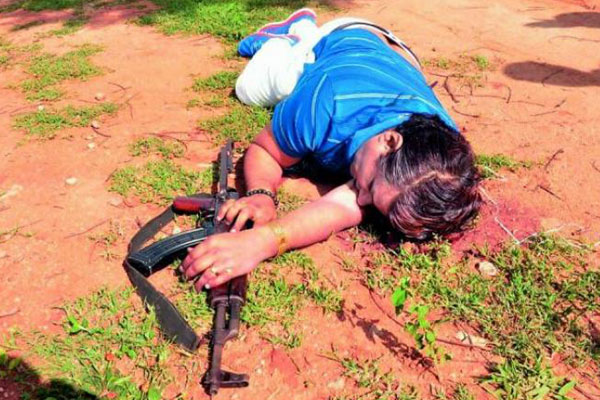 Nayeem encounter,Nayeem comments Kavitha,MLa's complaint to kcr against Nayeem
(S.Ravi Seshu)
Under the nose of everyone, naxal-turned-mafia don, Nayeemuddin, built up his powerful empire by creating terror in every section of the society. The way he dealt with all three governments–Telugu Desam, Congress and Telangana Rastra Samithi– with ease was amazing. Neither a ruling party leader/legislator nor an opposition leader made a fuss about Nayeem gang's atrocities, only to indicate that the former Maoist had hand in glove with powers-that-be of all hues. Surprisingly, many leaders, who were the victims of Nayeem, are tight-lipped even after his death in an alleged encounter a couple of days ago.
The KCR government, which gave an impression that it is pro-Maoist, kept mum over Nayeem's megalomaniac activities notwithstanding the fact that two of its leaders–Konapuri Ramulu and Sambasivudu- former top naxals–were brutally murdered by Nayeem's gang in Nalgonda district. Maoists' mouthpieces like Balladeer Gaddar and Revolutionary Writers Association leader Varavara Rao must have tried their best to rein in Nayeem at higher level but the State preferred to act ostrich.
According to reliable sources, a couple of elected representatives from TRS approached the Chief Minister with a plethora of complaints against Nayeem and pleaded him to save their lives. However, the Chief Minister reportedly took his own time to make up his mind. The CM asked the police department to provide a bulletproof car and extra security to Bhongir MLA Pailla Shekhar Reddy, who felt like sitting on a time bomb in his home turf.
Even as the Chief Minister was studying the situation with utmost care given the religious angle of the case, he was stunned to know that Nayeem made a highly disparaging comment against the TRS MP Kavitha, daughter of KCR. "While threatening the TRS leaders in a deal, Nayeem reportedly made a highly objectionable and inhuman comment against Kavitha in an intimidating manner. This news reached the Chief Minister and expedited the process to bump off the dreaded murderer," a reporter from Nalgonda said.
Giving credence to this version, the Communist Party of India (CPI) Secretary Narayana told reporters in Ongole that the State acted against Nayeem as "he had started troubling KCR family." He alleged that the consecutive governments aided and abetted Nayeem to wipe out Maoists. Narayana demanded that an inquiry should be ordered with a sitting judge to unearth the connects between Nayeem and police officials and politicians.
Meanwhile, the Telangana government constituted a Special Investigation Team (SIT) to probe the case relating to the death of Nayeem. The SIT, headed by Nagi Reddy, Inspector-General of Police, North Zone, will investigate into the various criminal activities committed by Nayeem and his associates in Telangana State, the Director General of Police Anurag Sharma announced. The SIT will also investigate from where the seized material had originated apart from thoroughly investigating land documents, arms and ammunition, explosives, etc.
The 'Operation Nayeem' was a closely guarded secret till he fell to police bullets in Shadnagar in Mahabubnagar district. "Many top cops were kept in dark because it is an open secret that many IPS officers maintained contacts with him for ulterior motives. In fact, the encounter came as a surprise to many top police officers," a source said.