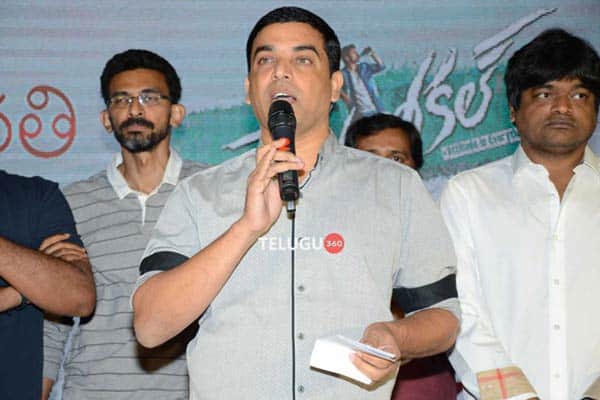 Dil Raju Gets Emotional in SVC Celebrations
Out of many challenging producers of Telugu films, Dil Raju occupies a very special place because of his dynamism, choice of different subjects and also continuous success streak with his home banner Sri Venkateshwara Creations. Dil Raju has become one of the most admired producers in Telugu Films and his story is no doubt quite inspiring.
During the celebration of SVC banner, Dil Raju reminisced about his first breakthrough film Pelli Pandiri which brought him to limelight and the hardships he faced for releasing the film and financial struggles. Incidentally, the film was released on Christmas day! Dil Raju invited the entire team of Pelli Pandiri including Kodi Ramakrishna and felicitated them.
Dil Raju also spoke about distribution experience and his journey into production with V.V.Vinayak, Srikanth Addala, Sukumar, Venu and felt that he is proud to be a producer to introduce such talented directors into Tollywood. He emphasized on the importance of story being the most crucial for any film's success. Dil Raju spoke about the importance of planning and releasing the six brilliant films in the year 2017 which came from his banner.
This is indeed a rewarding moment for Dil Raju and his triumphant team and he sure became an inspiration to be a leader and new age management guru in Telugu Cinema!