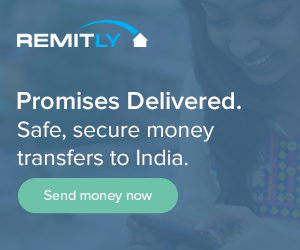 As dollar hits record high, create an account at Remitly and make a transfer. For the uninitiated, Remitly is a premier remittance service offering the best rates  when sending money to India.
About Remitly: 
Remitly is a mobile payments service that enables consumers to conveniently make person-to-person international money transfers from the United States. Remitly is backed by some of the famous VC firms such as DFJ, QED, Trilogy Partnership, DN Capital, Founders Co-Op, Bezos Expeditions, and TomorrowVentures. Remitly is headquartered in Seattle, WA with additional offices in the Philippines.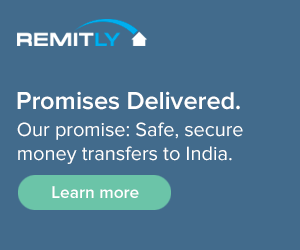 Remittance options: 
Remitly has two remittance options. (i) Economy (ii) Express
Economy:  Not in a hurry, then select economy option. This option gives you the best remittance rate in the industry. Currently remitly.com is offering Rs 67.25 for every dollar. This is one of the best remittance rate in the market. (As of this writing Xoom offers Rs 67)
Express: After using Bank Of America instant transfer, have you ever wondered if your Indian remittance be like that? 'Express' service is answer to this question.The process is straightforward and your money will be deposited in customers account in minutes.
Service fees: 
For remittances below $1000, Remitly charges $3.99 as service fee. Any transfer above $1000 is free.
Conclusion: 
Remitly website is very intuitive and one of the, if not, the best remittance service in USA. If you are looking to send to money to India, look no further than remitly.com
Sign up for remitly.com using this link