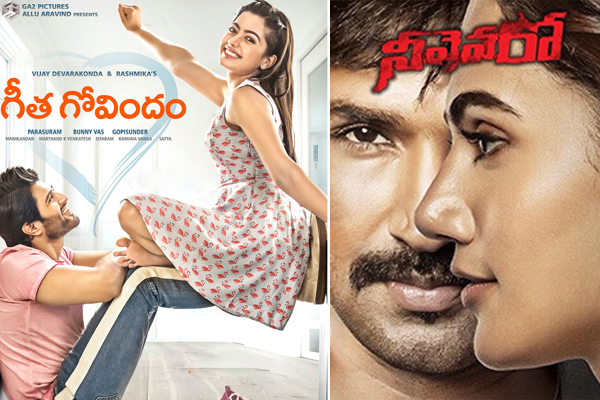 Five Films, inclusive of two dubbed ones, will hit the theaters this weekend, out of which Neevevaro and Aatagallu has good awareness whereas Anthaku Minchi might find some target audience. Among dubbed titles, Lakshmi is having a decent release whereas Alpha will be limited to DCI Screens only.
Geetha Govindam which is on a Blockbuster run is eyeing to top the weekend box-office again as it has an advantage of B,C centres audience over Neevevaro which is releasing this friday as it relies on a very good mouth to dominate there. Even in A centres, Geetha Govindam will be playing on par or even more screens than Neevevaro which gives it an edge.
Neevevaro will easily occupy the second place as it has much better buzz than the other new release Aatagallu. The film is releasing in over 300 locations which is widest among all the new releases. Advance for the film ain't that encouraging but its usual for this sort of films as they rely on word of mouth which comes into play from the evening shows. Domestic theatrical rights of the film are valued for 5.70 Cr which is highest for a Aadhi Pinisetty Starrer. His highest collected film so far is Marakathamani with a distributor share of over 2.50 Cr which means this film has to double that film's numbers.
Another new release Aatagallu will occupy the third place unless things go completely wrong. The film is releasing in over 250 locations which is a very good number for it. Problem with the film is that it's carrying low buzz which can completely kill it if the word of mouth comes out to be negative.
Anthaku Minchi & Lakshmi are releasing in 150 odd locations out of which Lakshmi hs high chances to come on top and occupy fourth place as it has a wider target audience than the other release.
Among the holdovers, Goodachari will find a place in the Top 5 list unless Anthaku Minchi surprise us its collections.