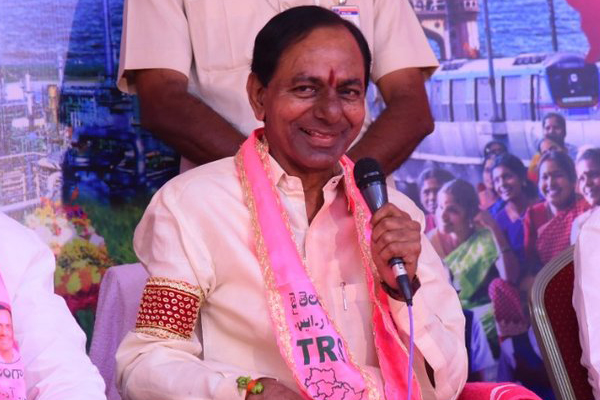 Kalvakuntla Chandrashekhar Rao, better known as KCR, is known for taking decisions which surprise his political opponents but the dissolution of Telangana assembly is his political masterstroke.
With nearly nine months still left for the assembly to complete its term, he dissolved the House and the same day announced candidates of his Telangana Rashtra Samithi (TRS) for almost all the 119 seats.
His move baffled all as there was no crisis or political instability in the state to have warranted such a move. There are hardly any takers for his argument that 'political fragility' and 'unlimited idiocy' of the opposition prompted him to go to the people's court. Opposition parties making allegations of corruption against those in power is quite common in every state.
KCR choose to go for early assembly polls when the Lok Sabha elections are anyway scheduled in April-May next year. In 2014, simultaneous polls to assembly and Lok Sabha had paid rich dividends to the TRS, fresh from the success of movement for separate state.
A shrewd politician he is, KCR plans to achieve many objectives with his political gambit. Delinking the assembly and Lok Sabha polls will ensure that TRS' prospects to retain power in the state are not marred by other factors in general elections.
KCR apparently feels that several welfare schemes implemented during last four years will be overshadowed in simultaneous elections.
KCR, who led the Telangana movement, has hinted that he will seek fresh mandate on the slogan of 'self-respect'. He appealed people not to become slaves to Delhi, an obvious reference to Congress.
The dissolution was also to deny time to the opposition parties to regroup. Congress, the main opposition party, is trying to form a grand alliance with Telugu Desam Party (TDP), the Left parties and Telangana Jana Samithi (TPS), a new party floated by Kodandaram, KCR's friend-turned-foe.
KCR is so confident of retaining power that he wasted no time in announcing candidates for 105 seats. Psychologically, this will give him an upper hand over opposition.
In 2014 elections, the TRS had bagged 63 seats in 119-member assembly to form the first government in Telangana. Its tally swelled to 90 with legislators from Congress, TDP and other parties switching loyalties.
The Congress, which had secured 26 seats, remained KCR's number one enemy in the state. The TDP, which had finished third with 15 seats, has weakened and is left with just two members in the dissolved assembly. The YSR Congress Party, which had three MLAs, is decimated.
The BJP, which had five seats in the dissolved Assembly, is trying to strengthen itself in the state but it is not likely to see any dramatic change of fortunes.
Confident that there is no anti-incumbency and opposition offering no strong alternative, KCR opted for early polls. This is expected to give him sufficient time to plan his strategy for the Lok Sabha elections.
For several months, TRS circles are abuzz with the talk of KCR's plans to anoint his son K.T. Rama Rao as his successor. KTR, as the cabinet minister is widely known, is number two in both the government and the party and is seen by many as the defacto Chief Minister.
By going for early polls, KCR apparently wants to pave the way for KTR to take over. The TRS chief may contest Lok Sabha polls shift to national politics. There is also talk that those reluctant to accept KTR may be sent to the Lok Sabha.
KCR, in recent months, was seen warming up to Prime Minister Narendra Modi. As any understanding with the BJP may antagonise Muslim voters and his ally Majlis-e-Ittehadul Muslimeen (MIM), KCR is going for early polls to Assembly. He is thus keeping the door open for a possible alliance with the BJP in the Lok Sabha polls.