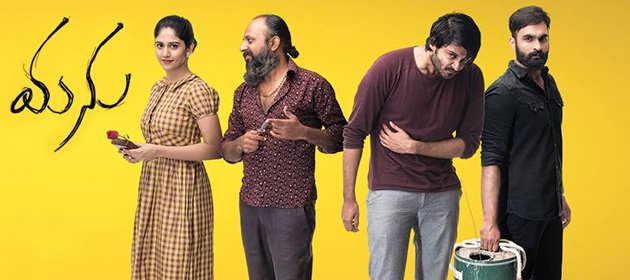 Manu Review Manu Movie Review
Telugu360 Rating : 2/5
Critically acclaimed short filmmaker Phanindra Narisetty is venturing into Tollywood with the first ever crowd-funded film titled as Manu. The mystery thriller has already grabbed the eyeballs of audience for its riveting trailer. Brahmanandam's son and actor Gautham is making a comeback after a long gap with this film. Chandini Chowdary is the leading lady.
Story : Manu is about two lovers whose relationship goes for a toss because of a criminal trio. What mystery surrounds these different characters forms the rest of the story.
Analysis :
Manu has a strong and interesting premise on paper. Director Phanindra Narisetty attempts to showcase this film as an unconventional and unusual one by juxtaposing elements of mystery, thriller and horror genre to make it an intriguing watch for audience. What initially unfolds like a mystery with a series of murders then transforms into a love story and later makes us believe that it has some horror elements too.
The screenplay is convoluted with twists and turns. Though the narration builds up some intensity in the initial stages of the film, the lengthy runtime proves to be an undoing aspect leaving much more to be desired to make up for a watchable thriller.
The narration loses its steam and also turns out to be absurd due to the scattershot and confusing screenplay. While the first half manages to keep the audience hooked to the proceedings to some extent, the second half is a complete disappointment due to needless narrative exchanges. The wow factor which is needed for a thriller is clearly missing here. The director has also missed out on few logics in connecting the crucial dots of the plot. Final revealation of embalming concept is silly
Actors performance : 
Both Gautham and Chandini Chowdary get their career best roles, but the lackluster narration and tedious screenplay blind their subtle performances. Abhiram Verma is a good find and comes up with a noteworthy performance. Though the lead characters are well-etched, it is the pointless execution that mars the overall output of the film.
Technical Department :
The slick and adept work by cinematographer Vishwanadh Reddy and the haunting background score are the biggest takeaways for the film from the technical team. Dialogues are apt, but could have been more precise and to the point understanding of the scenes that unfold during a crucial juncture. The editing department has thoroughly failed to make this a crisp watch as the running time is tediously long. Overall, the technical team has done a decent job.
Verdict : 
On the whole, Manu is a hotchpotch of different ingredients that fall very short of expectations. It's a 3 hour overstrecthed compilation of some abstract thoughts put together in disguise of " New age film making "
Telugu360 Rating : 2/5
Release Date : 07th Sep, 2018
Director : Phanindra Narsetti
Music Director : Naresh Kumaran
Choreography : Vamsy Krishna
Produced : THE CROWD
Starring : Raja Goutham, Chandini Chowdary