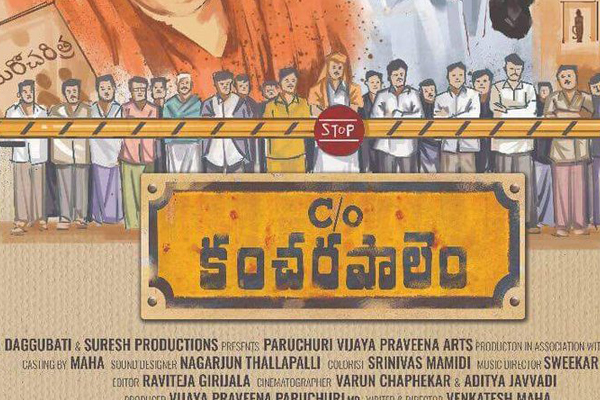 Care of Kancharapalem review, C/O Kancharapalem
Telugu360 Rating 3.25/5
Story:
Raju is a government office clerk in a place called Kancharlapalem. Despite hitting 49, he is still unmarried and that obviously becomes a hot topic for everyone in the town. A woman named Radha arrives in Raju's office after getting transferred from Orissa. She is 42 years old and a single mother of a 20 year old girl. She falls for the good nature of Raju and proposes to get married to him.
In the mean time, an eight standard school boy named Sundaram is entirely involved in love with his classmate Sunitha. This girl has a great voice and loves to sing. But her father doesn't approve of this. After singing at independence day event in school, she is compelled to leave the place abruptly.
Coming to another character named Gaddam Babu, he works at a wine shop. Everyday a Muslim woman comes to his shop to buy a quarter of alcochol. Hhe falls in love with her. But one day he comes to realize that she is a prostitute.
The fourth story is about Joseph and Bhargavi who belong to different religions. Bhargavi's Dad disapproves of their relationship and fixes her wedding with somebody else seeing the time Joseph is away in town.
What happens to these stories?How do they unfold? How do they fight with their challenges and come out with flying colors? What sort of lessons do they learn from the people they meet and the experiences?- forms the rest of the plot.
Analysis:
Somehow, Telugu film industry has been stuck with glamour all the way. We have been witnessing only larger than life stories on big screen because of this. Incidents which are based on real life, and experiences have become rare. When a Marathi or Bengali movie is watched on, we tend to get amazed at the realism . C/o Kancharlapalem will definitely remain to be the one of best attempts in showcasing such realism in Telugu films. There are no cinematic expressions in this flick and pre-meditated dialogues. Regular aspects like interval bang, climax twists are non existent. In fact, a determiantion to show a frame beautifully is also not seen. An honest attempt in showcasing the people of Kancharlapalem, the mindset of people were greatly shown in the film. The audience will get a feeling of witnessing the village bit by bit, sitting in the theatre seat! The film's entire beauty lies in this fact.
The character of Raju reflects sadness and lonliness throughout but he doesn't speak of philosophy. He has a tinge of humor , realistic attitude and progresses the story. Sundaram's character reminds us of our childhood where we fall for a girl in a tender age and a stark innocence is seen when he abuses God for taking the girl away from him. The story of Gaddam Babu will tug the heartstrings and even make the viewer wonder whether such pure love exists these days! Can anyone really love a girl like Saleema and be devoted so much?- such questions occur in the viewer's mind.
It is only Joseph's love story which pales down compared to these three amazing storylines. But at the same time, the story isn't something which can be ignored.
How are these four stories brought together? What are the twists in the tale?- are the questions which ponder in viewers mind throughout. But such screenplay has been witnessed in 'Manamantha' earlier. In fact, these four stories needn't be fused in one frame. The director made sure every frame has great honesty and integrity. Without losing the realism aspect, he managed to show honest emotions with entertainment and humour, sentiments, and genuine feelings.
Coming to the flaws, there are certain few. Too much of realistic feel also showcases a bit of rawness. Somewhere in between the flick,the director falls in the trap of practicality. He chooses the regular path of happy ending like any other commercial film.
Performances:
Every character of the film has equal screen space. They acted in quite a balanced manner without over performing a frame. The realism of the film was greatly reflected throughout. Especially Raju character guy stands out
Technical Aspects:
A director's efforts are clearly seen in the film. It is indeed a great attempt to stay in the village, understand the lifestyles of it to bring it into life. Irrespective of its commercial success, the film will remain as the most experimental flick in Telugu Cinema off late. The background score is haunting and elevates the flick. The songs are quite to the timing of the story and dialogues are very natural.
Verdict:
C/O Kancharapalem is a fun and realistic movie. These type of honest and new attempts should always be appreciated. This is a film for all those who are eager to watch a change in Telugu Cinema.
Telugu360 Rating 3.25/5