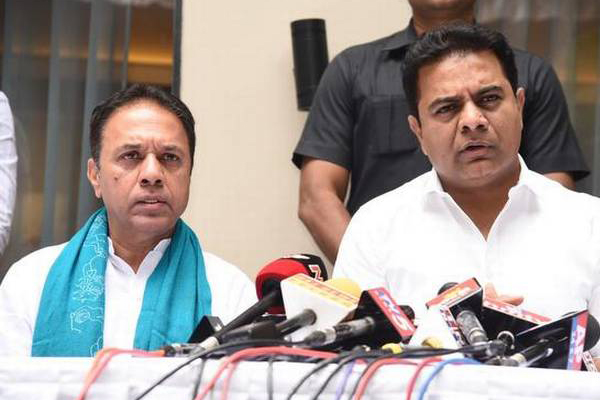 The Congress in Telangana received a big jolt on Friday as its senior leader and former Andhra Pradesh Assembly Speaker K.R. Suresh Reddy joined the ruling Telangana Rashtra Samithi (TRS).
Suresh Reddy, who was the Speaker of undivided Andhra Pradesh Assembly between 2004 and 2009, made the announcement after Telangana cabinet minister K.T. Rama Rao invited him to join the party.
The development came a day after Chief Minister K. Chandrashekar Rao dissolved the state assembly to go for early elections.
Rama Rao, who is the son of Chandrashekar Rao, went to Suresh Reddy's house and invited him to join the TRS.
Later, talking to reporters along with Rama Rao, Suresh Reddy said he was joining the TRS to participate in the development of Telangana.
He said Telangana saw massive development and launch of several welfare schemes during the TRS rule.
Stating that this is a crucial time for Telangana, the former Speaker said if development works were to continue in the state, TRS should come back to power.
Hailing from Nizamabad district, Suresh Reddy was elected to Andhra Pradesh Assembly from Balkonda constituency for four terms. He contested from Armoor constituency in 2009 but lost.
Suresh Reddy was again defeated from the same constituency in 2014.
Since both Balkonda and Armoor figure in the list of 105 constituencies for which TRS on Thursday announced its candidates, Suresh Reddy is not likely to get a TRS ticket.
Rama Rao said he would be given suitable position in the party.