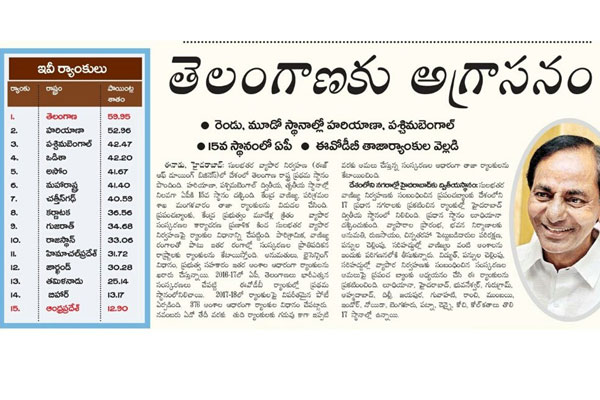 Today, Eenadu published a banner story that  reports India got 100th rank worldwide in "ease of doing business". The report also claimed that, among Indian states, Telangana got first rank.
But the Indian government website http://eodb.dipp.gov.in/ , that declares these ranks amongst the indian states , has clearly put a banner disclaimer like this – " Please note that the last date to upload evidence of reforms implemented has been extended to 7th November,2017. Please note that the ranking displayed on the website is dynamic and will continuously undergo changes, until the freezing of rankings. Please note that the scores are based on implementation only and scores on feedback evaluation have not been considered in the rankings displayed.".
So, that means, still there is time for submitting evidence documents and so whatever ranks shown as of today are not final and they may change as others submit documents. So, why is Eenadu so hasty in publishing this story today, instead of waiting till deadline is done and ranks are frozen. We are not debating here whether Telangana , Andhra Pradesh deserve their current ranks or not. But  many readers who follow these reports are wondering why Eenadu has to publish this article before the ranks are frozen. That too, they conveniently ignored the details on deadline and nowhere mentioned about ranks are subject to change until the deadline. Moreover, this is not first time Eenadu doing this and last year also it was the same story.
Eenadu published this as banner story and dedicated full business page for this today. As Eenadu has lots of reputation in Telugu states, whatever published in eenadu daily is treated as perfect and final by Telugu people. So eenadu has a moral obligation to tell the readers about the disclaimer.
Now, there are questions among media circles whether eenadu did this mistakenly or did they do it intentionally. If it is a mistake, eenadu team has to do more research before publishing such stories. Also, need to check why same mistake is repeating year after year. If it is intentional, it's clear that eenadu has done this ONLY to project KCR and Modi governments in positive way. In that case, one thing they need to understand is people are slowly changing and they are not buying any story as is and readers are verifying the facts and debating on those in Social media.