Gender equality not only liberates women but also men from prescribed gender stereotypes. Why we need feminism and gender equality, because ETV thinks girls have to play specific games. As a part of women's day ETV is conducting contest named Mahila Vaaram Ganta ko Varam. Each hour they ask questions for which the ladies have to send SMS responses. Winners will be announced the next day and selected candidates will be given gifts.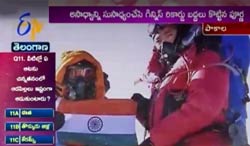 ETV Telangana was telecasting a story of a girl who climbed the Himalaya's as a part of women's day. The kid was talking about trekking. Ironically, in the side bar a question is asked – Which game do girls like to play when they are young. And the options are swimming, Tokkudu Billa (Hopscotch) and the third option is Caroom.
This is what is called gender discrimination and this is why we need to celebrate a day to recognize half of the humanity. We are not sure which answer is right according to ETV Telangana. Sexism is a disease. We are sorry ETV Telangana we dint know that the games that girls have to like are bounded by terms and conditions.
Children must be taught how to play not what to play. Gender equality is a human fight not a female fight. Women are not going to be equal until media itself changes its thought. The roles of men and women may be different but their right to choice is equal. Stop clipping their wings with your ideologies.
Telugu360 is always open for the best and bright journalists. If you are interested in full-time or freelance, email us at
[email protected]