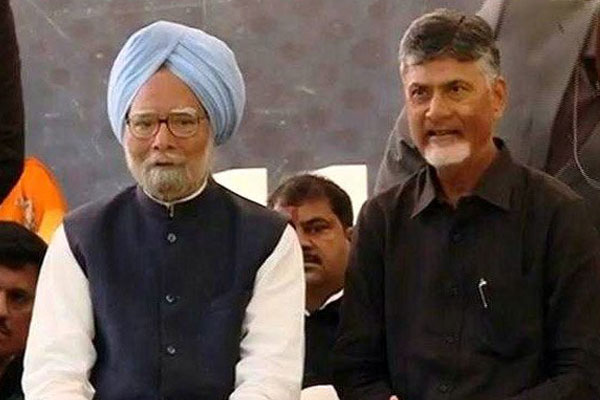 Former Prime Minister Manmohan Singh expressed solidarity to the one-day deeksha protest of CM Chandrababu Naidu in Delhi. Singh visited AP Bhavan and addressed the protest camp. The former PM demanded that considering the rising sentiments, the Modi government should confer special status on Andhra Pradesh without any further delay. He recalled how all political parties had supported the status and other promises for AP at the time of separate state formation.
It was Manmohan Singh who made the statement on the floor of the Parliament favouring special status to AP as the state has lost Hyderabad capital city. Singh has not been often seen in public in recent times because of his age but he made it a point to come and take part in Naidu's protest. The Congress has stepped up its attack on the Modi government at the Centre with regard to the AP state's demands.
The Congress circles are speculating their party high command is giving greater importance to the cause of AP issues more than any other state. Considering support from Naidu, the Congress leadership thinks fuller cooperation to TDP and AP cause will improve its chances in coming election. This is why Manmohan asserted the need for standing behind Naidu at this of hour of need for AP.
G.Ravikiran