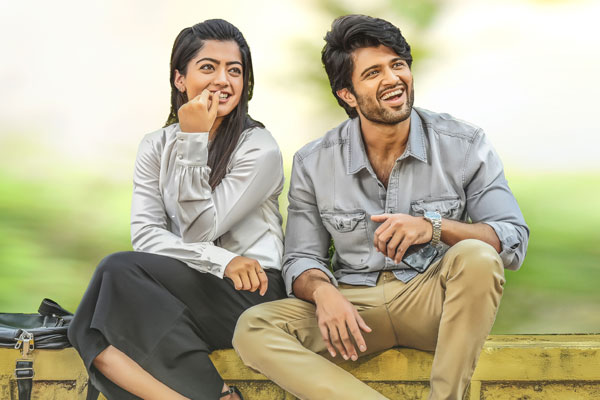 Overseas collections are considered as one of the effective parameters to gauge the box office potential of our heroes because the market for Telugu films has flourished by leaps of bounds there. Going by the trend in the last couple of years, hitting one million mark has become a cake walk for our heroes.
As per the latest trend, $ 2 M mark has been set as the new benchmark to judge the stamina of our films. Only stars heroes like Chiranjeevi, Mahesh Babu, NTR, Ram Charan, Pawan Kalyan have films in the prestigious $ 2 M club. Medium range heroes like Nithiin and Varun have a film each in the elite club.
Now, young sensation Vijay Devarakonda is all set to join the big names with his latest film Geetha Govindham which is enroute hitting the $ 2 Million club very soon. The film has already emerged as Vijay's highest grossing film in overseas after having a solid Tuesday. With close to $ 1.8 M by the end of Wednesday, the film is heading towards touching the $ 2 Million mark in this weekend.
Vijay Devarakonda's Pelli Choopulu and Arjun Reddy fared pretty well and created a huge fan base for him among overseas audience. With Geetha Govindham, he has turned out to be a reliable actor for trade circles there. The film is likely to topple the career highest of actors like Pawan Kalyan and NTR in its full run.