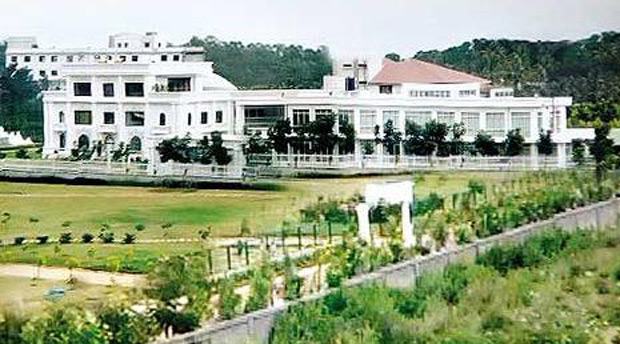 Chief Minister of Andhra Pradesh, Nara Chandrababu Naidu is building a new house in Hyderabad by demolishing his old house in Road No 65, Jubilee Hills. The old home had only two bed rooms and a hall and so the family decided to rebuild the house in the same land as his family has grown after Naidu's son Lokesh got married. Family has grown even bigger with arrival of Naidu's grandson. For a Chief Minister, the new planned house, as per GHMC approval, a three floor structure with five bed rooms and a courtyard, is a modest one. However, Greatandhra portal didn't like this and started spitting venom. There was a report (Title : Why does Naidu need a mansion in Hyderabad) appeared in that portal  yesterday questioning why Naidu was building a house in Hyderabad when the city is no longer part of new state.
The said portal didn't have the 'DARE TO WRITE' about Jagan and question Jagan as to why he built a 'White House' palace in Bangalore, between 2004-2009, when the capital of the state was Hyderabad. And even to date, Jagan still lives in Hyderabad and stays in Bangalore on weekends but NOT in new Andhra Pradesh. Being main opposition party leader, Mr. Jagan mohan Reddy has crucial responsibility of staying in his own state ( residual AP) all the time. The portal that 'DARES TO WRITE' never wrote on this. The portal also bemoans that Naidu is building a 19,000 square feet.
Firstly, as per GHMC layout reviewed by Telugu360, the proposed new house by Naidu family is much smaller than reported and it is a 5-bed room house. Again, the portal in the past never wrote about 90,000 sq ft area Lotus Pond,which has 30 bed rooms and a three-floor underground parking  .
This type of article is an example of agenda driven propaganda in garb of journalism. Mr. Naidu has his own shortfalls, all the media including Telugu360 portal have reported extensively on various issues related to Naidu's government wrong deeds and his political incorrect actions. Criticizing Mr. Naidu for building a house in Hyderabad on his own property is part of hate propaganda carried out vehemently by certain section of media. This portal always refers to other news papers as "yellow (Pacha) media". But, in reality isn't this text book "yellow journalism" by GreatAndhra  ?
(Telugu360's  earlier Media Watch articles  pointing out EENADU,  AndhraJyothy Agendas : About Eenadu's false claims about Naidu and AndhraJyothy's repeated claims about Governor change)