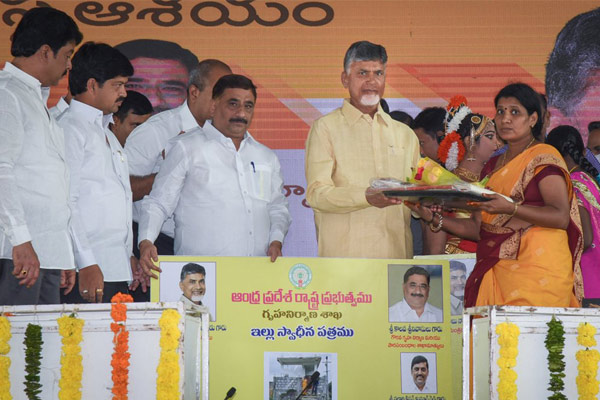 The Andhra Pradesh government on Thursday claimed to have set a record with the opening of over three lakh houses built for poor across the state on a single day.
'Gruha Pravesham' (housewarming) programme of 3,00,346 houses built under housing scheme for poor in all 13 districts of the state was performed simultaneously, an official statement said.
Chief Minister N. Chandrababu Naidu launched the programme in Vijayawada while ministers and other public representatives participated in the house warming in different parts of the state.
The Chief Minister said the houses were completed during 2017-18 at a cost of Rs 3,746 crore. The beneficiaries were from the scheduled castes, scheduled tribes and the backward classes.
He claimed that nowhere such a large number of houses were launched on a single day. He announced that housewarming of another 3 lakh houses would be performed in January next year.
Naidu said 5,80,849 houses were completed from 2014 to June this year under various schemes. House warming of one lakh houses was performed on October 2 last year.
The Telugu Desam Party (TDP) chief said his government was working to fulfil the dream of all the poor to have their own house.
Targeting the BJP-led NDA government at the Centre, he said it promised to build one crore houses but could not complete even 35 lakh houses across the country.
He said while the state government spent Rs 6,260 crore towards housing so far, the Central government allotted only Rs 1,296 crore.
Naidu slammed the Centre for betraying the state on all fronts. He said the state government would continue its welfare schemes despite not getting cooperation from the NDA government.
The TDP chief said the Centre had done injustice by stating in its affidavit filed in the Supreme Court that special category status can't be given to Andhra Pradesh.