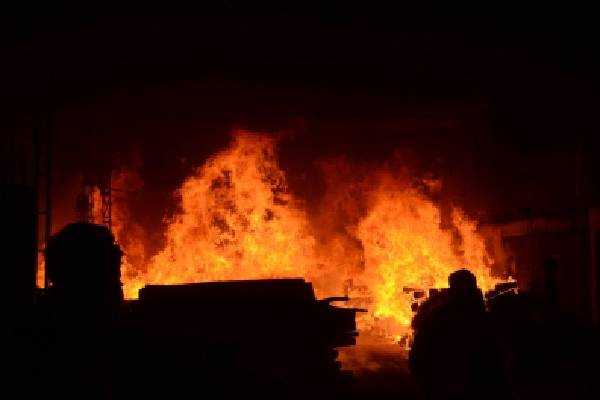 A huge fire broke out in a multi-storied commercial complex and spread to two adjoining buildings in Secunderabad here on Thursday.
Fire fighting personnel rescued four people but two others are suspected to be still trapped inside.
Six fire tenders have been battling to douse the flames for more than four hours.
A thick cloud of smoke engulfed the building, making the rescue operation difficult. Two firemen took ill due to the smoke and were rushed to a hospital.
The fire broke out in the five-storied building housing Deccan Sports Store and some other shops at Nallagutta in Ramgopalpet area of Secunderabad.
Police and fire fighting personnel rushed to the scene and launched a rescue operation. Five people were pulled out safely..
The fire spread to two adjoining buildings, sending panic among residents. Authorities were evacuating nearby houses as a precautionary measure.
Short circuit is suspected to have caused the fire, which broke out in the godown.
State Minister T. Srinivas Yadav, who rushed to the spot, was supervising rescue and relief work.
The Minister said stringent action would be taken against illegal warehouses in the midst of residential areas as they were posing a risk to people's lives.