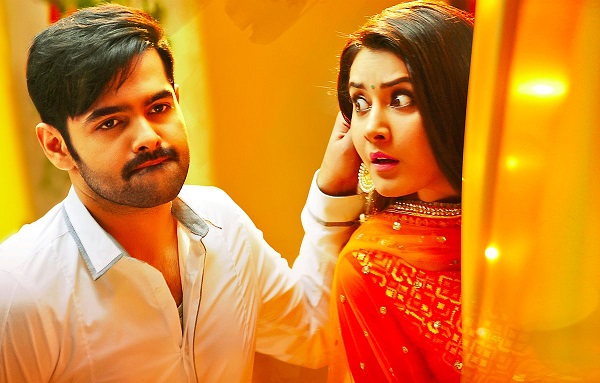 Hyper Review , Hyper Movie Review
TELUGU360.com Rating 2.5/5
Energetic hero Ram is awaiting the release of his upcoming entertainer Hyper which is scheduled to hit the screens this Friday.The backing of 14 Reels Entertainment has created a good buzz on Hyper. The impressive trailer and the good looking posters have raised the expectations on the film among the audience. With the much needed success attained from Nenu Shailaja, Ram is looking confident to continue his success streak.
Story :
Surya (Ram) is obsessed with his father Narayana Murthy(Satyaraj).He won't tolerate if any one points a finger at his dad, no matter what. The story is set in Vizag where a local don named Gaja( Murali Sharma) saves Narayana Murty from a truck accident, and with this gratitude, Surya starts helping Gaja.
Rajappa(Rao Ramesh),a minister, seeks clearance for his illegal mall construction plan in Vizag. Murthy refuses to sign the papers, Rajappa determines to teach a fitting lesson for Murthy.Rajappa deploys Gaja for the task against his friend surya's family
Rest of the story deals with how Satya and Gaja face Rajappa. And also there is a love story in parallel between Surya and Bhanumathi (Rashi khanna)
Analysis:
Hyper movie has a clichéd story, and the only novel point is heroes' over obsession with his father. Movie opens with some comedy scenes to establish Surya's characterization and these scenes failed to make an impact. Rashi Khanna as Bhanumathi is par for the course, and is liberal with the dressing. First half story doesn't move at fast pace and shows signs of lag. Surya – Bhanumathi love thread is not established properly and the director lost an opportunity to make this thread engaging. Posani Krisha Murali, Sayaji Shinde and K.Viswanadh acted in special characters.
Second half has lengthy dialogues and tests your patience at times. May be to justify 'Hyper', the lead actor tried to be outrageously loud some times. This movie is shot entirely in Vizag and production values are good for a mid-level movie. However, the casting is not up to the mark. Hero's sister, Hero mother (Tulasi) are bad choices. Without a commanding director, it is tough to stop Rao Ramesh from doing over action. He goes overboard many times in this movie.
The much-publicized message oriented subject hass noting but Satyaraj explaining the importance government officers of being honest and the perils of corruption. Mani Sharma's re-recording could have been better.
Ram's energy levels are as usual high, and he tried his best to rescue the movie. Ram picks mass subjects time and again to establish as a mass hero, which he doesn't have it in him. Best suited for lover boy roles, one wonders why Ram tries these mass movies.
Positives :
Some Commercial Elements
Rashi Khanna Glamour
Villains group
Negatives :
Cliched story
Except two songs, rest are forgettable.
Lack of entertainment
Verdict : Hyper first half is not up to the mark, second half is slightly better. This movie has less to offer for class audience, especially those who come anticipating from Ram's movie. In India, due to Dussera holiday season this movie may be an average fare but in overseas markets 'Hyper' will be a disappointing one. You may watch it if you are a big fan of Ram or Rashi Khanna.
TELUGU360.com Rating 2.5/5
Release Date : September 30, 2016
Director : Santosh Srinivas
Music director: Ghibran
Producers: Achanta Ramu, Achanta Gopinath , Anil Sunkara
Cinematography : Sameer Reddy
Starring : Ram, Raashi Khanna, Sathyaraj, Naresh