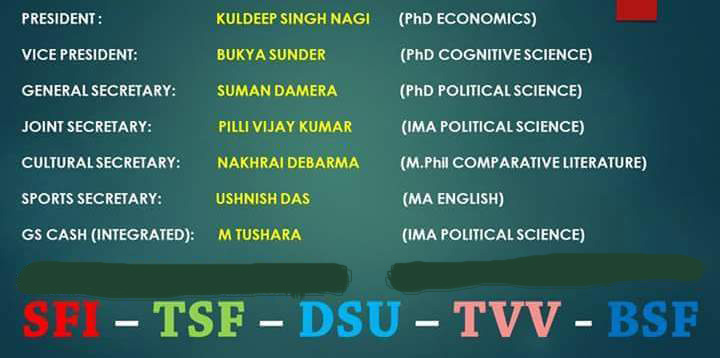 (S.Ravi Seshu)
United Front for Social Justice (UFSJ), a grand alliance that took shape after the tragic suicide of Vemula Rohit, a research scholar, defeated the ruling Bharatiya Janata Party's student wing, Akhila Bharatiya Vidarthy Parishad (ABVP), in the elections held for the Student Union of University of Hyderabad. The candidates of the UFSJ, consisting of Students' Federation of India (SFI), Dalit Students' Union (DSU), Tribal Students' Forum (TSF), Bahujan Students' Front (BSF) and Telangana Vidyarthi Vedika (TVV), won all the posts for the year 2016-17.
While ABVP fought the election along with OBC Association (OBCA), Ambedkar Students' Association (ASA) remained the fray on its own making it a triangular contest. Polling was held on September 28, 2016 and the results were declared at 10.30 pm on Thursday. More than 80 percent students voted to elect the new body.
UFSJ's Kuldeep Singh Nagi, a PhD scholar in Economics, won the President post by defeating his nearest rival Gopal Krishna of ABVP-OBCA by a margin of 52 votes. While Nagi was polled 1406 votes, Gopal Krishna secured 1354 votes.
The grand alliance's Suman Damera, a PhD scholar of Political Science, secured 1842 votes against ABVP-OBCA's Ananda Rao's 1503 votes to clinch the crucial General Secretary position. Results of other position as follows:
Vice-President: Bukya Sunder (UFSJ): 1701 won against Aditya (AVBP-OBCA): 1405.
Joint Secretary: Pilli Vijay Kumar (UFSJ): 1557 won against Ajit (ABVP-OBCA) 1351.
Cultural secretary: Nakhrai Debarma (UFSJ): 1823 won against Shanti (ABVP-OBCA): 1594.
Sports secretary: Ushnish (UFSJ): 1790 won against Nanda (ABVP-OBCA): 632.
Representatives of GS-Cash:
GS-Cash (Integrated) won by M. Tushara of UFSJ
GS-Cash (PhD) won by Firdaus Soni, Independent candidate
GS-Cash (PG) won by Bishnupriya Bagh of ABVP-OBCA
"After English and Foreign Languages University (EFLU) and Jawaharlal Nehru University (JNU), now Hyderabad Central University (also known as UoH), created history by decimating the killers of Rohit Vemula," a jubilant student commented.
In the previous elections too, SFI-led alliance had made a clean sweep giving no scope for ABVP. The SFI-TSF-DSU-TVV alliance bagged all the nine posts. Zuhail KP, a PhD student from the department of Physics, secured 1,603 votes to win the president post with a clear majority over his nearest rival, Garikapati Gurajada of ABVP, who got 1,264 votes.