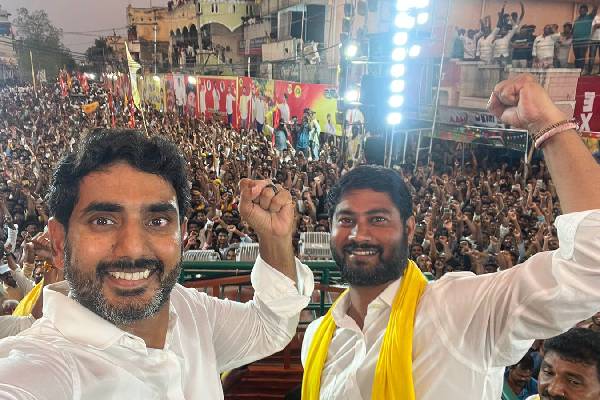 TDP general secretary, Nara Lokesh, on Tuesday said that he has taken the problems of the people, that he discovered during his ongoing Yuva Galam pada yatra, to the notice of party supremo and former chief minister, Nara Chandrababu Naidu.
"On learning about all your troubles, Chandrababu Naidu has announced several welfare schemes at the Mahanadu in the name of Future Guarantee," Lokesh said addressing a huge public meeting at Jammalamadugu on beginning his pada yatra on Tuesday after a four-day gap. Lokesh gave a halt to his Yuva Galam as he attended the Mahanadu at Rajamahendravaram.
Expressing deep satisfaction at the massive gathering for his public meeting, Lokesh felt that he is fortunate enough to undertake his pada yatra on a historic land like Jammalamadugu. Observing that the YSRCP leaders are getting totally disturbed at even the mini manifesto of the TDP announced at Mahanadu, Lokesh felt that once the main manifesto is announced the chapter of the YSRCP will come to an end.
Stating that the YSRCP leaders are asking as to how the schemes announced in the mini manifesto will be implemented, he made it clear that Chandrababu is a creator of assets and the TDP can easily implement all the schemes. "Chief Minister, Jagan Mohan Reddy, is a liar as he did not implement even a single promise made to the people. What happened to the promise of total prohibition and how Jagan will go to the people seeking votes again," he asked.
Jagan always wants the people to remain in poverty, Lokesh said and promised to create 20 lakh jobs in five years. "I am assuring you all that once the TDP forms the next government job calendar will be announced every year and study circles will be set up in all the districts in the State," the TDP general secretary stated.
Reiterating that he will revolt if any obstructions are created for his pada yatra, Lokesh said that the YSRCP leaders tried to cause some hurdles much before he entered Kadapa district. Making a fervent appeal to the people to give a chance to the TDP, he said that once the party is back in power the people will witness what is development.
Lokesh is continuing his pada yatra in darkness as the local officials disconnected the power supply. The streetlights on the thoroughfares were deliberately switched off while a firm Lokesh did not relent and continued his Yuva Galam with a massive following of the people.