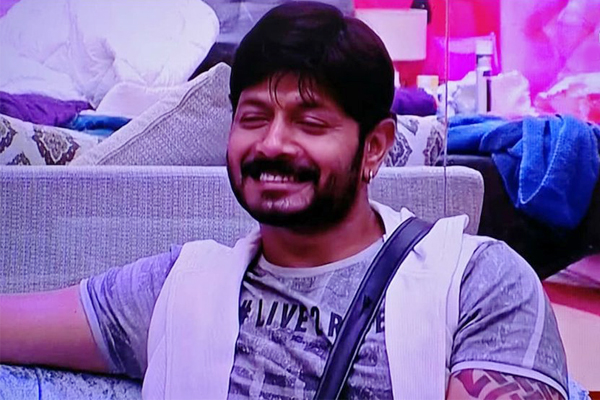 It was another ferocious episode in Bigg boss show. Deepthi became captain in previous episode. She was very happy because she won captaincy task after fighting for it for so long. But her happiness was short lived. She was removed from captaincy by Bigg boss and subsequently there was a big fight and heated arguments between Tanish and Kaushal.
Tanish vs Kaushal after Deepthi removed from the captaincy:
Ganesh was sleeping in the house and it is against the rules of the house to sleep during the day. Captain has to make sure nobody sleeps in the house during the day. But, as Deepthi, who became captain of the house yesterday, failed to do so Bigg boss punished her by removing from captaincy. Kaushal raised his voice and pointed out Ganesh shouldn't have done this as it is bringing bad name to all the housemates. Tanish argued, Ganesh is suffering from ear infection (and taking medicines that cause dizziness) and so he needed that nap. Kaushal argued, this is Bigg boss house and one can't break rules as it brings bad name to all. Tanish replied, why you are talking only about rules, why don't you show some concern for the housemate who is sick. This argument got prolonged and both Tanish and Kaushal fought like bitter rivals.
Kaushal requested Bigg boss for captaincy post:
Later, Nani also supported Kaushal and lambasted Tanish for supporting someone who breaks rules. Nani also told, in-house doctor gave medicine to Ganesh already and Bigg boss knows about his medication. But, after the fight, Kaushal went alone to the camera and requested Bigg boss to give the captaincy position, that fell vacant after Bigg boss removed Deepthi, to him. Kaushal's claim was based on the fact that he was the contestant who fought for captaincy with Deepthi and lost it to her. He also claimed, he has the  ability to maintain the order of the house. However Bigg boss didn't respond on this. But Kaushal requesting for the captaincy surprised audience because Bigg boss already told very clearly that there wont be any captain for this week. Kaushal is showing no hesitation to display his ambitiousness.
Nani lightened the atmosphere:
Nani who maintained very serious tone as long as he was dealing with Kaushal and Tanish's fight, immediately changed the tone after the break and chilled the housemates and evoked laughs in the house with his sense of humor. He called Nutan Naidu as "Alludu" (son-in-law) of the house because he is coming into going out of the house so frequently. He also evoked laughs while talking to Ganesh. This quality of Nani to change the tone and lighten atmosphere immediately is his biggest asset as host and audience will definitely recall this in future seasons too.
Kaushal turned emotional:
Later, Kaushal got call from one of the audience and he told he is part of Kaushal army and revealed how much fan following he has outside the house. Kaushal turned emotional after hearing this and he got tears in his eyes.
All 4 still in danger zone:
All 4, Deepthi, Kaushal, Tanish and Pooja are still in danger zone and we will have to wait and see who will be evicted from the house 
tomorrow
.
Telugu360 is always open for the best and bright journalists. If you are interested in full-time or freelance, email us at
Krishna@telugu360.com